Review: SpellCatcher
| | |
| --- | --- |
| Publisher: | Casady & Greene |
| Requirements: | Mac SE or better |
| | System 7.0 or higher |
| | 4MB RAM (total) |
| Price: | $48.95 (street) |
Whi cant peopole on teh internat spel?
Lately, I've been seeing quite a few Usenet signatures along these lines. Either people on the Internet really can't spell, or they can but don't take the time. With written communication, it's very important that words are spelled correctly, and in the case of Usenet postings, thousands of people will notice if they're not. Part of the problem is that most pieces of Internet software do not include spell checkers. Even if your software already does, read on to see how it could enhance your productivity.
SpellCatcher used to be called Thunder 7, and was published by Baseline software. Casady & Greene recently bought the product and is now selling an updated version under the SpellCatcher moniker. I've been using the product ever since Thunder 7 came out, and it's one of the few utilities that I can't live without. The real beauty of SpellCatcher is that it will work in just about any Mac application that supports the copying and pasting of text. It truly is a universal spelling checker — and much more. SpellCatcher adds a menu to each application for which you activate it. From the menu, you can check the spelling of a document, access a thesaurus, and run text processing macros on a selection.
Once you install SpellCatcher, you'll never need another spelling checker. SpellChecker has saved me over 15MB of hard disk space because I no longer need dictionaries and thesauruses for WordPerfect, Word, Excel, ClarisWorks, BBEdit and all the other programs that I want to check my spelling in. And while I could have used the spell checkers and thesauruses that these programs came with, SpellChecker is a better solution. Because it's the only spell checker that I use, I only need to maintain one custom dictionary. It easily imports custom dictionaries from other programs, and allows multiple supplemental dictionaries. You'd be surprised at how many times you have to enter the same words into different programs' custom dictionaries. Also, when you add a word to SpellChecker, it lets you choose suffixes for that word, so you don't have to add the plural or other variants of the word later on.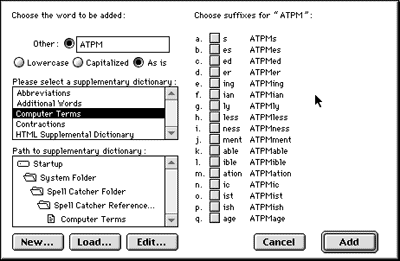 SpellChecker comes with one of the more extensive dictionaries I've seen. It includes many common abbreviations, computer terms and company names, scientific terms, and medical terms. It is even smart enough to ignore HTML tags in a document.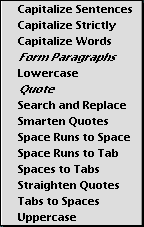 Modifying Selections
In addition to spelling dictionaries, SpellChecker comes with some useful text processing features. Any of the commands in the menu to the right can be invoked on a selection of text, and are very useful for cleaning up documents. For instance, you can capitalize sentences, change straight quotes to curly ones (and vice versa), and remove extra spaces between words. The Quote feature is very useful for e-mail programs that don't support quoting (placing > in front of text in a reply). Finally, the Search and Replace feature is useful because some programs (such as SimpleText) don't have one built in.

Automatic Changes
What sets SpellCatcher apart from most other spelling checkers is its interactivity. It can be set to beep when you misspell a word as you're typing. This allows you to simply backspace and correct the mistake — a much more efficient method than clicking through the buttons of the spell checker later on. SpellChecker also includes a feature similar to the AutoCorrect feature in some word processors. This Shorthand Glossary has been part of SpellCatcher for years, and will correct common typos automatically, and in just about every application. You can add abbreviations to the Shorthand Glossary as well. For instance, if I type addr, SpellCatcher inserts my complete mailing address. In addition, you can set abbreviations for the date and time so that they are automatically inserted when a special sequence of keys is typed. Finally, SpellCatcher can automatically fix common "style typos" by smartening quotes (as you type), preventing double spaces between sentences, and converting consecutive hyphens to an em dash (-- is changed to —).

Ghostwriter
Perhaps the most valuable part of SpellCatcher is the Ghostwriter. It keeps a log of every key that you type in every program where SpellCatcher is active. These keystrokes are then saved to text files in your System Folder so that if your machine crashes before you have a chance to save a document, the work that you've done isn't be lost. Because of file corruption and crashes, the Ghostwriter feature has saved me from recreating 12 documents entirely from scratch.
Final Words
SpellCatcher is a very good deal because it contains so many useful features. It is also a very finely tuned product. For instance, each application for which SpellCatcher is active for can have its own set of preferences. The Shorthand and Interactive Checking features are invaluable, and the Ghostwriter feature may save you a lot of retyping someday. Finally, it consolidates all your spell checking needs. No more entering custom words, or memorizing spell checking command keys for each application that you use. Spell Checker is one of the few utilities that I can recommend to any Mac user without hesitation.

| | | |
| --- | --- | --- |
| This review is ©1996 Michael Tsai. Comments and criticisms dealing with this review may be sent to mjt@sover.net . | | |