Review: Cyberdog To The Rescue

Like most everyone, my Internet experience began with America Online or one of the other then-major online services. For me, this was the Spring of 1993. For two years AOL and I had a nice relationship. Part of my affection for the now #1 online service was because it had what I wanted: e-mail, software updates and fixes, and a good news search engine, among other things. I still like America Online and we still visit with each other quite often.
Over a two-year span, I had signed-on a few "friends" to AOL and accumulated what seemed like an inexhaustible amount of free time. Life was good, and there was no real reason to look elsewhere - until I met the WWW in all its raw charm and beauty. Within a couple weeks of heavy browsing I had burned through my store-house of free AOL hours and then some. I soon realized that the WWW would be, at least for a little while, one of the more stormy relationships I ever had - expensive, fickle, and often elusive when I wanted to connect on things that seemed important to me.
My first non-AOL internet access provider was a very short-lived and strained relationship. In a multi-platform world there can be problems. I spoke through a Mac, and my provider had trouble translating and understanding me. The next time around I purchased the aid of a good interpreter - The Apple Internet Connection Kit. No more three-version-old freeware, no more hours on the phone with technical assistance, no more scrounging the world for updates that would work with my PCI-based Power Mac - "I was set to surf."
Today, I spend on average 3+ hours a day on the Internet. This includes web browsing, ftp activity, news searches, newsgroups, and e-mail for correspondence and from the Apple mailing lists to which I'm actively subscribed. In all this activity, and although Netscape Navigator is equipped to handle many of these tasks to some degree or another, I found myself switching between applications such as Claris Emailer, NewsWatcher, and Navigator out of personal preference for the way each application handled its primary task. This can be tiring and cumbersome so I'd been hoping for an all-in-one Internet application that would provide a solid "suite of services" for all of my different activities - enter Apple's Cyberdog to the rescue.
Cyberdog is based on the OpenDoc architecture (more on this a little later). What's most important to me is ease-of-use, functionality, and the ability to quickly move between activities without having to constantly open and close separate applications. As you can see from the picture of the Cyberdog Starting Point below, most Internet activities are easily started from this main document.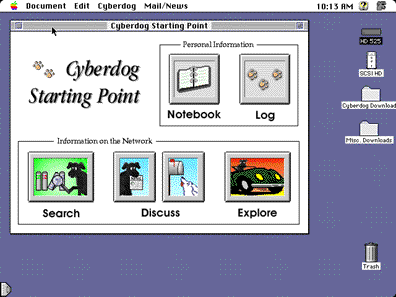 A simple click of the Explore button, and Cyberdog displays a sub-menu of links to several net directories and search engines. Clicking on the Notebook button displays Cyberdog's version of bookmarks which is easily expanded, and customized to personal taste and Internet-style. The left-side Discuss button is for newsgroups, the right-side Discuss button is for e-mail; Cyberdog e-mail is MIME compliant.
From the Cyberdog menu at the top of the screen one can scroll down to "Connect To..." which has vertical menu from which to choose ftp, gopher, URLs, e-mail, etc. Each of these options has an easy-to-use graphical interface that makes any of the functions mentioned more convenient to access and use.
As a creature of habit I at first found myself starting my Internet sessions with Navigator for browsing and then switching to Cyberdog. Over the several months of heavy activity, my Navigator bookmarks looked like the draft mark-up to the index revisions of a world almanac after the fall of the Iron Curtain: full of entries, no longer sure where many of them belonged, some had been renamed and a few of them no longer existed. As a temporary cosmetic fix, I very quickly began copying the URLs of my favorite sites to my Cyberdog Notebook. After just a little while, I had become so comfortable with Cyberdog that I now use it quite frequently for my web browsing and quite extensively for Internet sessions when I'm planning to do more than one Internet-related activity.
The Cyberdog 1.0 release is not intended to compete commercially with Navigator or Internet Explorer. At the time of this writing, Cyberdog neither supports Navigator plug-ins nor does it currently have available equivalents that provide the same features. The 1.0 version of Cyberdog also does not support Java. However, Apple and outsides developers are working on enhancements. What's most important isn't necessarily just where Cyberdog is today, but where - once fully "unleashed" - it will lead us in the future.
As I mentioned earlier, Cyberdog is based on the OpenDoc architecture. This is not only worthy of some explanation it is in fact very difficult to discuss Cyberdog without looking at its underlying concept. OpenDoc is designed as an architecture for multi-platform "component" software. Simply put, users will be able to mix OpenDoc components or "parts" such as text, graphics, and video into a single OpenDoc document. Again, because OpenDoc is component software, developers will be able to use common raw components or "building blocks" in many different OpenDoc-based software solutions. The Cyberdog Starting Point pictured above is an OpenDoc "container" document. This means that it contains the OpenDoc parts necessary to allow users to perform certain functions such as web browsing, e-mail, newsgroups, etc.
The OpenDoc architecture should reduce the future need, in many instances, for ever larger stand-alone applications. Applications based on OpenDoc will be effective not only when different parts are used together for very particular purposes, but also when different parts are used to expand the functionality of documents and software solutions. Cyberdog is an very good example of OpenDoc parts combined for a particular purpose. In the case of Cyberdog, that purpose is helping us get the most from the Internet. Conversely, Cyberdog or its some of its parts could be contained in another OpenDoc document, adding an Internet-savvy component to a wide variety of documents and user projects.
For illustration purposes, another use of OpenDoc parts working together in a container document would be, for example, in business or school work. Instructors or managers could prepare uneditable text with one OpenDoc part, provide a notepad for comments, feedback or students reports in another "part" and have live URL links to related topics or references in still another OpenDoc part, all bound together in a single container document. The uses of this component architecture are almost limitless. In the not-too-distant future, instead of purchasing large stand-alone applications, you may simply purchase additional OpenDoc parts that will provide the same functions and uses. You may also be purchasing a variety of cross-platform parts from many different developers.
For those of you who may think this sounds a lot like Java, well, it is and it isn't. While the overall concept of "applets" and "parts" may be similar, OpenDoc is a component architecture which allows for parts to be written in any language, including Java. In fact, Java Applets will be able to be imbedded in OpenDoc container applications.
Does all this still sound a bit confusing? Trust me. Very soon it won't be. In the very near future, OpenDoc will be explaining itself quite nicely. The next version of ClarisWorks will ship as an OpenDoc "container" application which will allow ClarisWorks users to create OpenDoc container documents and to imbed OpenDoc parts in ClarisWorks documents. This will add an exciting new dimension to the program, and increase the functionality of an already versatile application.
For me, I like the way Cyberdog works and plays. Although at this time the little puppy is a wee bit too much of a RAM eater, I expect it to consume less and do more as it grows up. For somebody like me that's been known to lose my car in shopping mall parking lots, the all-in-one Internet features of Cyberdog keep me from losing my mind as I move from activity to activity on the Internet. And, I'm intrigued by what's planned for OpenDoc and its component architecture.
I know that learning about Cyberdog and OpenDoc from this or any article is like learning about driving from a brochure at the Department of Motor Vehicles. You really don't learn much until you take the vehicle for a drive for the first time...without an instructor. My advise here: leave the instructor behind and put the pedal to the metal. Or, more precisely, take this Cyberdog for a healthy walk. You don't know where in the world it may lead. It's time to "unleash" the power of this puppy on your Mac.
Cyberdog is available for free downloading at: http://cyberdog.apple.com/
| | | |
| --- | --- | --- |
| Robert Paul Leitao is a regular columnist and editor for ATPM, and reviews what he owns on the side. | | |