Software Review
ExpanDrive 1.3.1

Developer: Magnetk
Price: $30
Requirements: Mac OS X 10.4.1, G4 processor. Universal.
Recommended: 1 GHz processor.
Trial: Fully-featured (30 days).
Ask most anyone who has attempted to connect to an FTP (File Transfer Protocol) file server natively from within the Mac OS X Finder, and they'll generally respond with advice to not bother with it. It sort of works, but it's not very pretty.
Enter ExpanDrive—a utility that brings FTP connectivity to the Finder in a way that Apple should've offered in the first place. Once installed, ExpanDrive begins its life as a menu bar icon where FTP servers can be quickly enabled.
The ExpanDrive menu bar window lists all saved FTP servers and indicates with a green icon which servers are connected and usable.
The Drive Manager reveals a simple window in which FTP servers are added, removed, or edited. They can be reordered in the list by dragging them to the desired order. The icon adjacent to the server name indicates whether the connection is standard FTP (yellow) or secure SFTP (red).
A list of saved FTP servers in ExpanDrive's Drive Manager window.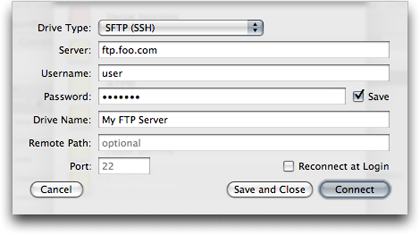 Connection information for an FTP server can be daunting, but ExpanDrive makes it as non-stressful as it can possibly be.
Adding a new FTP server only requires knowing whether it is standard (FTP) or secure (SFTP), the server's address, a user name, and a password. Naming the new Drive is optional (the server address is automatically used if no custom name is provided) as is the choice to begin in a specific subdirectory located on the FTP server.
Once a server is connected, it appears in the Finder window as a mounted drive, much the same as if an external hard drive had been attached.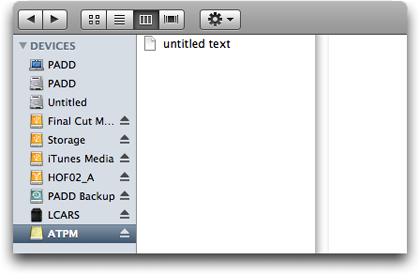 FTP servers connected via ExpanDrive are navigated in a Finder window in the same way as any other mounted drive.
If I were to end this review right here, I'd be leaving the impression that ExpanDrive is practically a must-own for any Mac user who regularly works with FTP servers. Unfortunately, I cannot describe ExpanDrive as a must-own.
Even before I actually began using ExpanDrive, two issues had appeared. The first involved the installation (or upgrade) of MacFUSE which is required for ExpanDrive to work. The ExpanDrive installer indicates it will install or upgrade MacFUSE automatically and that no restart will be needed.
Yet, after installation of both MacFUSE and ExpanDrive had completed, I received a warning of a conflict with MacFUSE. Apparently I had an older version of MacFUSE previously installed, and ExpanDrive's installer somehow didn't fully suss out the upgrade. Each time I tried to mount an FTP server, I received the same error about the conflict and a suggestion to either restart ExpanDrive or restart my computer. Restarting ExpanDrive didn't make the warnings go away, and I did end up restarting my computer.
Once I was back up and running, the first FTP server I set up seemed to mount properly, so I decided my next step should be registering the software. This procedure had me stumped for a few moments. The developer provided ATPM with a license file via e-mail, but no instructions on what to do with it. Moreover, I found nothing within the ExpanDrive interface nor the help files on how to register the product.
Admittedly, ATPM received the registration file in a manner that a typical customer would not. I discovered by trial and error that I only needed to double-click the file, and ExpanDrive automatically recognized this action and registered itself.
I do hope that any information (e-mail or otherwise) that accompanies the registration file delivered to a typical customer includes the instruction to double-click the file.
As I continued experimenting with ExpanDrive and added more servers to the Drive Manager, I noticed a significant amount of delay in accessing directory listings from most servers. I do know that directly listings never come from FTP servers as quickly as they would from a remote volume over standard Apple File Sharing, but my preferred FTP application retrieved the listings in less than half the time that ExpanDrive took.
Furthermore, with some connections, I was completely unable to upload a file. Doing so resulted in an error message that incorrectly claimed the file I was uploading might be corrupt.
Two different FTP servers used with ExpanDrive produced messages like this. One was a standard FTP connection, and the other was an SFTP connection.
I know this error message was bogus because I repeated the upload with my preferred FTP application, and the transfer went through without so much as a burp.
A transfer attempt to yet another FTP server started normally, but caused my Finder to hang moments after the upload began. I might have wondered if my computer, and not ExpanDrive, were the source of these issues, but that notion doesn't seem likely since I experienced them both on a MacBook Pro at home and a G5 tower at my office.
ExpanDrive is still a rather young product. Its approach to making FTP servers more easily accessible within the Mac Finder is splendid. If I were rating only the interface, ExpanDrive would at least merit ATPM's Very Nice designation. Conversely, ExpanDrive's performance needs refinement and improvement if it's to be representative of the "ridiculously simple" and "perfectly transparent" descriptions that appear on the developer's Web site.