Software Review
Signal
Developer: Alloysoft
Price: $30
Requirements: iPhone or iPod touch. (A version compatible with Pocket PC devices is also available.)
Trial: Feature limited (one-third of your library is inaccessible).
As if I didn't think my iPhone was already cool enough, I now have a new party trick. Let me set up the scenario: you walk into my home to join a few friends for an evening of food, fun, and listening to some great music. Everyone is seated and someone blurts out, "Hey, have you heard the new songs from Matchbox Twenty?"
At this point, you might imagine that I'd get up, pick up the new CD, stop the currently playing music, change CDs, and start playing the new album. An even better case would be that I'd add the CD to a multi-disc changer and then switch to it.
Better still is the fact that, instead of CDs, I'm playing music wirelessly from iTunes through an Apple AirPort Express connected to my entertainment system. So, I might only need to walk to my computer, locate the desired album, and double-click a track to start it playing out in the living room.
Here's where Alloysoft's Signal enters the picture. Rather than getting up to my computer, I instead whip out my iPhone and, with a couple of taps, start playing Matchbox Twenty's new album, Exile On Mainstream.
In the words of Steve Jobs, just like the iPhone itself, "it works like magic."
Admittedly, there are some rough edges. Signal is pretty new and, at version 1.0.3, Alloysoft has only just recently fixed a bug that prevented access to any item in an iTunes library that contained quotes or extended characters such as accents. There are also little "grr" moments with the user interface, but they're all very minor and, because Signal is just a Web application from the iPhone's point of view, I'm confident the interface will only get better and better.
Signal requires absolutely no configuration to operate. There isn't even a preferences window. Simply launch Signal on your computer, and it basically operates as a standalone Web server. When Signal is running, a window appears with your computer's local IP address plus a port number. It's presented as a URL and it's the address to which you connect with MobileSafari on your iPhone or iPod touch. If your local IP stays consistent, it's perfectly fine to bookmark this address.
On the iPhone or iPod touch, when you first connect to the address specified by Signal, you'll see the default screen that shows while a song is playing. If no song is already playing in iTunes, it'll just be a mostly dark screen. Nothing's wrong here—just tap the browser button (with the white musical note) in the upper left corner.
If iTunes is already playing a song when you activate the Signal Web interface, Signal will dutifully display the track's playback information.
When you enter the browser for the first time, you'll be presented with links to access Music, Videos (including video podcasts), or TV programs. The latter of those two unfortunately do not have any further categorization and simply provide a full list of all videos or all TV programs. This is especially unfortunate if you have saved a lot of episodes from several podcasts or several television shows. Alloysoft should add one or more layers of categorization to the Videos and TV menus. I would like to be able to select Podcasts inside of the Videos menu, and then have a listing of all podcast subscriptions, and then access only the episodes of that podcast.
Fortunately, however, the familiar breakdown of Genres, Artists, Albums, audio Podcasts, Playlists, and individual Tracks are offered in the Music portion of the Signal Web interface. To play an album, I can simply tap Music from the top level of the browser, then Albums, then scroll through to find the album.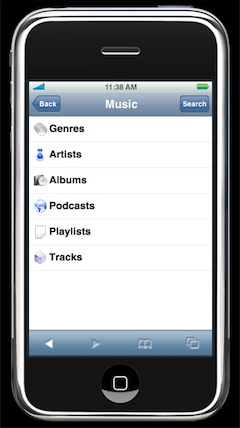 Navigating Signal's Music menu. From here, I can navigate to my music much the same way as an iPod.
A much-appreciated extra touch is the search function. The Signal Web interface only displays a few dozen items per page plus Next and Previous links to move back and forth. It would take a very long time to scan through a full library containing thousands of songs. Instead, if I know the name of what I want to play, I'll just tap the Search button and start typing the first word of what I'm looking for. When the results appear, I can either tap the item to see what's inside, or tap the + button next to the item to add it to the active playlist.
Also nifty is that, while music is playing, I can keep browsing and add even more songs to the active playlist, queueing them up just like a jukebox. When I'm all done, I just tap the title bar (between the Back and Search buttons) to return to the default playback screen.
From the playback screen, you'll see the currently playing track's cover art, the name of the song, artist, and album, buttons to pause or move to the next or previous track, the aforementioned browser button in the upper left corner, and the playlist navigator in the upper right corner. The playlist navigator shows every track you've queued in the active playlist and lets you immediately skip to any track in that playlist by tapping the track.
Note that the active playlist is sometimes a representation of a literal playlist in iTunes. You'll see it named as Signal Queue, and it is used whenever you add tracks to the queue. Conversely, this playlist is not used if you select an existing playlist in iTunes.
To reveal adjustment controls for changing the volume, assigning a rating, and toggling repeat and shuffle options, just tap the album art from the basic playback screen.
The Signal playback controls shouldn't be unfamiliar to anyone who's used iTunes or an iPod.
It would be nice if there were a way to access a player widget to scan forward and backward within the currently playing track. This may be a great deal of wishful thinking, however. Dynamically updating such a slider via the Web interface is, I'd suspect, not a simple feat.
A behavior of the browser interface that could be improved is when, for example, you tap an album name and decide you want to play everything in that album. To do so, you either have to tap the + button next to every song to add them to the queue, or back up one level and tap the album's + button. The latter isn't really that bad, but including an "Add All" and a "Play All" link would seem more intuitive. The former would add all the tracks while keeping everything already in the queue. The latter would wipe out the active queue in favor of immediately playing the selected album.
I encountered a few situations where the basic playback screen didn't refresh itself when I changed out the active playlist queue to a new album. It's easily remedied by tapping MobileSafari's refresh button, but it's still a condition that should be checked out and corrected.
Elsewhere in this issue, you'll find my review of Keyspan's TuneView USB, which is a product you may want to consider if you do not have an iPhone or iPod touch. However, at only $30 (on sale for $25 at this writing), you'll definitely want to choose Signal if you do have an iPhone or iPod touch.