MacMuser
And Here's Another Thing About Leopard
Our Leopard family has started to have cubs as the updates come in thick and fast. But one change that was unexpected and definitely for the better is FireWire handling.
As far as we are concerned this fast connection interface has always been better than the SCSI it replaced, One of our office drawers is full of cables and inevitably half a dozen SCSI terminators of different types, dating back to the old black ones that only Quadras used. The memories of SCSI are not pleasant: of getting the correct ID and which devices in a chain prefer to be in which order. No, SCSI was never a favorite here.
Stirring Polenta
FireWire, on the other hand, is simple to connect up, even to a live Mac. The newer 800 version makes USB 2 seem like stirring polenta, especially for sustained disk writing when FireWire 800 is so much faster. We have a couple of Western Digital My Book Pros, with triple interfaces for both FireWire 400 and 800 as well as USB 2, and we have tried them all. But the first drive we bought kept dropping its FireWire connection and needed the rigid digit treatment and pulling its cables to get it to mount again. Western Digital sent a replacement, but that did the same. So they sent another and let us keep the first as well.
While the third My Book has worked flawlessly, under Mac OS X 10.4 the second was always flakey. However, since installing Leopard, both drives have performed trouble-free. Whatever was wrong with FireWire in Tiger has been fixed in Leopard.
Periodic Dances
The same can also be said of the automatic maintenance scripts. They are still set to trigger in the early hours of the morning when most Macs are dead to the world. However, they're now scheduled by launchd, which is smart enough to adjust the schedule if your Mac happens to be asleep or shutdown at the appointed time.
There's no easy GUI route to changing their default time. Or is there? They are now stored as plain text files: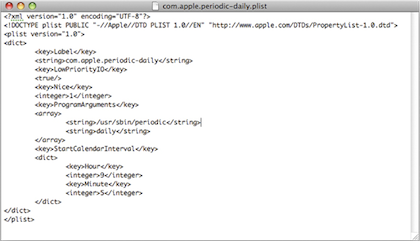 /System/Library/LaunchDaemons/com.apple.periodic-X.plist
The X is either "daily," "weekly," or "monthly." In the past, editing the times meant a trip to Terminal and Pico or using a tool such as Onyx. But now any plain text editor will do the task.
Above is the daily script with the time it runs changed to 9:05—a lot easier to do rather than doing the pseudo-periodic daily, weekly, monthly dance in Terminal. And if you screw things up and didn't make a backup before altering the script, just go to Time Machine and retrieve the old one.
You are using Time Machine, aren't you?