Software Review
SWF Movie Player 2.0

Developer: Eltima Software
Price: $20
Requirements: 500 MHz Mac with Mac OS X 10.2.7, 128 MB of RAM. Universal.
Recommended: 1 GHz G4, 512 MB of RAM.
Trial: Feature-limited (free version)
As a popular, low-bandwidth movie format, Adobe's Flash shows up everywhere on the Web. Typically, sites embed Flash files as ads or navigation. Creative types make Flash movies, games, or other interactive entertainment. SWF Movie Player helps you play back all of them, independent of your Web browser.
In simplest terms, the application gives you control where Web sites put restrictions. You usually can't save movies or shut off the ads without disabling Flash in some fashion. File saving, an important feature of the pro version, lets you make one download and then watch it over and over. You can frame-by-frame through the file, zoom in, and do many other things basic SWF players don't.
Installation and Getting Started
It's a simple matter to download the package and install SWF Movie Player into your Applications folder. Open it to see the Playlist, Viewer, and Movie Control windows.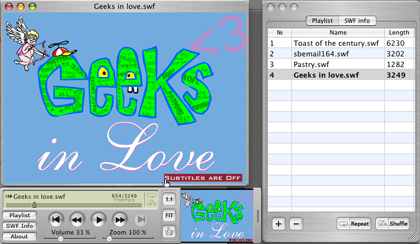 The control windows in action.
If you don't already have a Flash file in mind, just search. "Funny flash movies" should turn up a bunch of Google hits. Established sites like Weebl and Bob, OddTodd, and Homestar Runner are also excellent choices.
Playback Features
To view a file separately from the page, copy the page's URL. In SWF Movie Player, choose "Browse URL" from the File menu. Paste the URL, choose "Browse," and wait a bit. The application shows the SWF files found on your page and a preview window.
Double-click a listed file to watch its preview. "Save" adds it to the current playlist and asks you where to save it. "Open" puts it in the player window.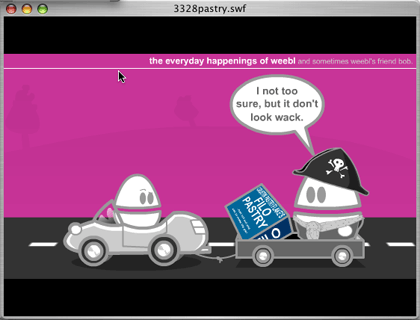 Weebl brings pastry back.
The playback window resembles most movie players, with a progress bar that counts frames and VCR-style controls. Pause at any point to resize the window up to full-screen, pan around with the hand, or zoom in on details.
Zoom works very well in Flash, as details scale smoothly to any resolution. Slide the zoom bar on the controls and move the pane in the right-hand preview window.
A closer look at the pie box.
Drag along the playback bar to go frame-by-frame. Hollywood animators often hide things in single frames, and their Flash counterparts are no different. Think you saw something out of the corner of your eye? You probably did.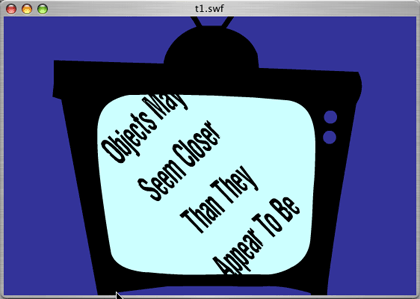 Frame-by-frame picks out an odd notice.
SWF Movie Player also supports interactivity, which many people use in their Flash movies or games. Use the mouse in the playback window to make choices or do anything else the file offers.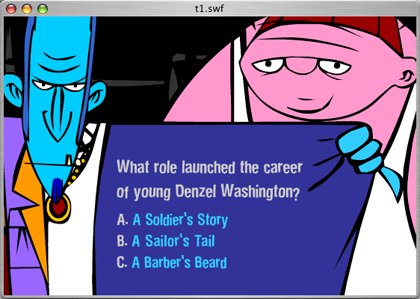 An interactive quiz from a Thugs on Film movie review.
Saving files
The player's pro version will save any file from the "Browse" window. This is especially useful for something with a limited Internet lifespan, like a news broadcast.
Will SWF Movie Player save files from YouTube and similar video sites? (YouTube uses a format related to Flash, called "FLV.") Supposedly you can. Check question #1 in the application's Help and follow the instructions. I say "supposedly" because my player would save, but not play, files from YouTube. It could be particular to my system, so your mileage may vary.
Annoyances
At a few points during (what seemed to me) normal use, small problems popped up. In one case, the controls window failed to redraw properly, leaving an empty space. Sometimes the "Browse" window took a long time to load files from a page, even compared to previous attempts on the same page. Other than trouble with FLV playback, the problems resolved after closing and reopening the player.
Summary
Watching Flash files away from a browser frees you from site ads and other visual clutter. Better still, the extra playback controls are leaps and bounds ahead of the typical Web experience. So is SWF Movie Player worth the registration fee? It depends significantly on the user. If you love to catalog favorite files, have a slow Internet connection, or otherwise want a local storehouse of files, it serves the purpose well.
While I like the file save option, frame-by-frame controls, and zoom window, occasional playback problems put speed bumps in my enjoyment. I'll pick and choose how I use it now and look forward to improved versions in the future.
Alternatives For SWF and FLV Download and Playback
Some people just want Flash file download and playback, without this application's extra features. For download, consider the Firefox extension VideoDownloader. For FLV playback, try the Wimpy FLV Player. Both are no-frills and free, so they don't have zoom, playlists, or other features of a more complete program like SWF Movie Player.