Review: PulpFiction 1.1.1

Developer: Freshly Squeezed Software
Price: $25
Requirements: Mac OS X 10.3
Trial: Fully-featured (15 days)
When Freshly Squeezed Software first released PulpFiction in May, the product was generally well-received because of its new way of handling RSS feeds: as e-mail.
For the uninitiated or underinitiated, suggested reading for this review is Michael Tsai's introduction to RSS. He did a better job than I could of explaining RSS.
Now, this idea of treating RSS as e-mail is really not so revolutionary—as early as August 2003 Rui Carmo expressed interest in an RSS to mail aggregator, just for instance—but until FSS published PulpFiction there weren't any mainstream clients that could show you your RSS feeds just as though they were e-mail. And FSS' solution has an elegance that receiving news feed updates in Mail lacks; it is an independent application.
The metaphor extends much further than just showing RSS like e-mails, where each post is a message and it has a "From" value and a "Date" value. You can filter your RSS posts, you can put individual posts in separate folders, you can open them in separate windows, and you can label and flag them—just like in Mail.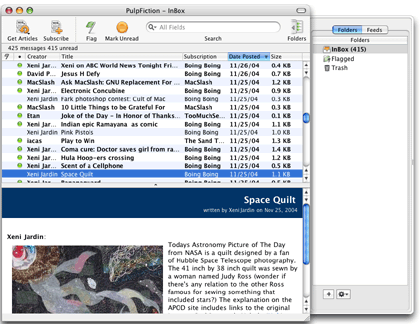 PulpFiction's main window, with a post loaded.
Unfortunately, I find this RSS-as-mail paradigm unpersuasive. I never open the posts in their own separate windows unless it's to load the full text from a link, and I seldom use the folders and labels. I can understand the value of thinking that RSS is like e-mail, but maybe it isn't, on some level. It feels like a mismatch to the way I use RSS, since I read all of the entries straight through. Although I never discovered it during my trial, I was excited to see that you can use PulpFiction's "Feeds" drawer as a conventional-mode RSS reader.
To be fair, there were plenty of things I really like about PulpFiction. I love that it can embed WebKit, Safari's HTML rendering component, so you can open pages without ever having to go to an external Web browser. Unfortunately, PulpFiction allows pop-up windows by default, something that is a bit mysterious to me; for an RSS reader with embedded Web browsing, I would think the default would be to block pop-ups.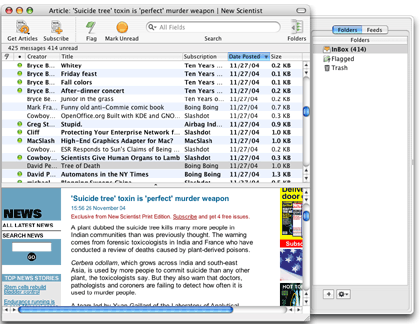 PulpFiction, browsing the Web inline.
I haven't gotten over PulpFiction's super-slick interface, including a search function for posts just like Mail; that's something I've never seen an RSS reader do before, and it was insanely useful. It also does something very few other RSS readers do: it can store posts permanently, so if you haven't already read something, it never disappears—and if you put it in a folder, it stays there. You won't have to mark anything unread to return to it. The overall feel is quite well-polished, as a result.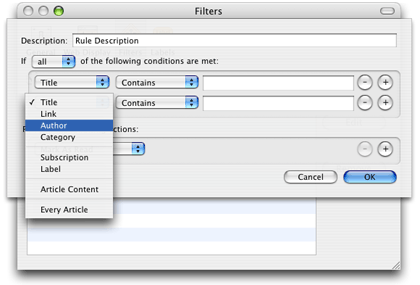 PulpFiction's filters interface.
Now, if you think you'll use RSS like your e-mail and sort things into folders and use labels, etc., you'll find PulpFiction's Mail paradigm quite useful. Since I write Bloggable here at ATPM, like this month's, you would think I would filter entries and put them in folders, but I tried it and it seemed artificial to me. (I actually keep my Bloggable links in a drawer in Drop Drawers.)
Pulp Fiction makes a good RSS reader, but it has speed and stability issues and its big selling point didn't appeal to me. I just haven't found any of the e-mail-like features to be useful, and in some places, the paradigm feels a bit stretched, like having the "Size" column on by default when "Category" is not, seemingly to ensure that the default window looks like Mail's. Somewhat more sensible, but less e-mail-like, defaults might enhance the application significantly, and with some speed fixes might well make PulpFiction a useful and slick RSS reader to you.