Review: Mail Factory 1.4

Developer: BeLight Software
Price: $30 (download); $39 (CD)
Requirements: Mac OS X 10.2
Trial: Feature-limited, adds "Made with Mail Factory" to printouts.
Introduction
In an era of electronic mail, I still post many letters and packages to friends and relatives. Printed pictures to Grandma, some Red Sox cards to Steve, that kind of thing. Type the letter, print the envelope, and stick the stamp. It's cumbersome compared to e-mail, but satisfying in a "good old days" way.
BeLight Software's Mail Factory seeks to streamline one of the most labor-intensive steps: that of addressing and printing the envelopes. For me, printing an envelope means opening a custom AppleWorks template. I have one for large and small envelopes, ready with my return address and a "don't bend" note for photos. It's handy, but requires that I type out each envelope (or paste the address) before I print it. Mailing more than a few things at once requires a definite commitment of time. Any program that automates this addressing and printing process will pay for itself quickly in time saved. Is that program Mail Factory?
Installation
If you download Mail Factory from the BeLight Web site, installation is very similar to other Mac OS X applications. Open the .dmg file and the resulting disk image. Drag the Mail Factory icon to your Applications folder and you're done.
When you buy Mail Factory, BeLight sends a license key. Select License… from the File menu and enter the key to unlock the full version. The Check for updates… function keeps you abreast of changes, or you can sign up for BeLight's newsletter. Unregistered versions are feature-limited and will add "Made with Mail Factory" to your printouts.
Address Book Integration
Do you use Mac OS X's Address Book? That's the easiest way to add a sender or recipient to a Mail Factory envelope or label—just select the name. Since my own addresses were in an AppleWorks database, I had to export them to a delimited text file, then import them into Mail Factory. This was a hassle, but is better than cutting and pasting them individually each time. Once you make the commitment to Address Book, mailing with Mail Factory moves much faster.
Creating an Envelope
Open Mail Factory and you see the Assistant, ready to create labels or envelopes for you. We'll start with envelopes, my main need. Its tab shows a long list of names and sizes. If you're not sure what envelope you have, measure it and find the dimensions under "Size." (Minor annoyance: you can't sort on the size column.) A preview pane at the right shows the relative sizes as you choose between them.
Envelope Assistant
If you want to create an envelope with custom dimensions, select New Blank… and then Layouts from the blank envelope window. Otherwise, pick your envelope from the list and choose Next.
On the envelope, the sender defaults to the current login user's name, with info taken from Address Book. To change the addressee or sender, click on the address and select a different name from the Contacts window.
Show the Design window to add clip-art, photos, or other designs to the envelope. Open the iPhoto Library tab to use anything from iPhoto. It'll take a while to load if you have lots of pictures, but it's a nifty feature if you like personalizing your letters. As an added bonus, use the integrated Google image search to add pictures or graphics from the Internet.

Design Palette
If you will print multiple envelopes at once (i.e., holiday cards or invitations), select Print, then click Change List. Select any number of names to print, then click OK. This feature saved me a lot of time and was the deciding factor in using Address Book and Mail Factory for future mass mailings to friends and family.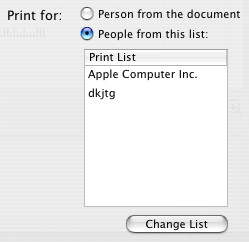 Creating a Label Sheet
Sharing pictures with my family is a regular occurrence. Internet-free Grandparents and cousins appreciate an envelope filled with "the real McCoy," rather than a URL they can't visit. To satisfy them, I use mailing envelopes, so I'd need Mail Factory's Label Assistant.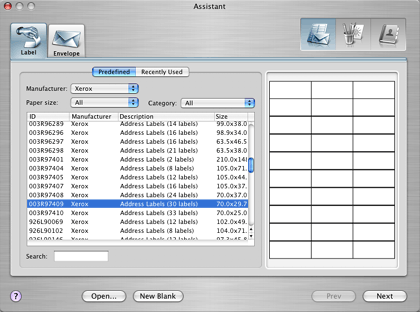 Label Assistant
The Assistant's list of included label sheets is impressive. Unfortunately, my particular Xerox labels weren't there. I selected another size that looked close, but a practice printing showed the spacing wasn't right. Not wanting to waste labels, I created a custom label layout. (Take the dimensions and spacing from the labels' packaging, or use a ruler to measure the labels.)
The custom layout worked great. Just like a custom envelope, select New Label from the File menu, then Layouts. Under the Custom tab, select Create new… and enter the dimensions of your labels. Once created, you can name it and use the layout over and over again. The custom layout window previews the full sheet of labels for you.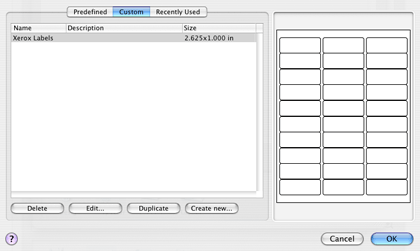 Custom Labels
Best Features
With a program of specific scope like Mail Factory, you just hope they don't get things wrong. Don't hide the fonts in a strange place, don't force people to do things your way, and so on. Mail Factory avoids the big mistakes and includes some great features. The Address Book and iPhoto integration make it feel a lot like an Apple product, or at least close to the tree. Searching for images through Google is very handy, especially if the included clip-art library doesn't have enough for you. The number of art tools may seem like overkill, but they don't get in the way of the basics.
Annoyances
There aren't many problems with Mail Factory. If you don't use Address Book or a database-style address list, importing your contacts can be a pain. Creating a custom layout takes more button presses than it needs. The metallic window style of the Apple applications takes up extra screen space, but that's not really Mail Factory's fault-they're trying to blend with what Apple already provides. Expect other minor issues, like not being able to sort on the label size field, to be fixed in a future version.
Summary
Mail Factory suited my needs for envelopes and labels well. It took a few tries to work out the label dimensions and easily manipulate the envelopes, but do it once and it's smooth sailing. The biggest change for me was the move to Address Book, which I'd been resisting for lack of a big benefit. The time savings for setting up large mailings tipped the scales in Mail Factory's favor. My AppleWorks templates will soon retire, moving to a leisurely life of virtual pasture and digital cud.