Review: Parliant PhoneValet

Developer: Parliant
Price: $200
Requirements: Mac with USB port, Mac OS X 10.1.5, QuickTime 6.3.1, analog phone line.
Trial: None (30-day money-back guarantee).
For many years, Mac users have been looking for a decent telephony solution to allow their computers to manage voice mail, caller ID, and fax data. With Mac OS X 10.3 Apple introduced fax capabilities, but OS X has to date been found to be lacking by way of voice features. How can a Mac truly be a digital hub without these features?
Parliant's PhoneValet resolves these missing capabilities. Using this hardware/software solution, small businesses and individuals can use their Mac as a telephone communications hub. The package includes a USB phone adapter that connects a Mac and a phone line (a standard household RJ-10 plug); a USB cable; and a software CD.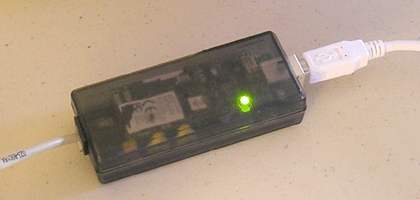 Installing PhoneValet is simple, and takes less than five minutes. The USB phone adapter should first be plugged into your telephone line, then into your Mac using the supplied USB cable. Install the software from the CD and you're ready to go.
PhoneValet is its own voice mail system. It lets you use your phone to remote control your Mac, record your phone calls, and use one telephone line to take both voice and fax calls. The software breaks these capabilities down into three basic functions, all accessible from a menu in the menu bar: Call Recording, Phonebook and Call Log, and Message Center.
Software Setup
The first steps after installation involve using PhoneValet's Preferences, Voice Mail Preferences, and Remote Control Preferences to determine how the software should function. Setup is extremely easy, and while the printed manual offers instructions that are easy to follow, the software was self-explanatory and the manual was not required.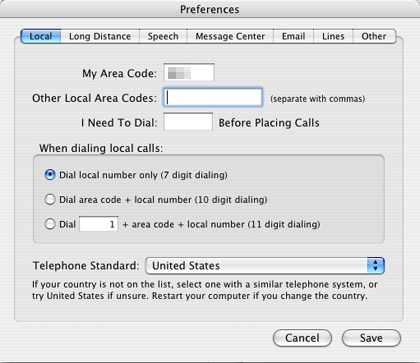 The basic PhoneValet preferences provide options for long distance, incoming call announcements with caller identity, message recording quality, e-mail options (including e-mail notifications and e-mailed phone messages), management of multiple phone adapters for multiple phone lines, and fax handling.
Fax setup offers a choice between using OS X's built-in fax abilities and using PageSender (separate shareware software).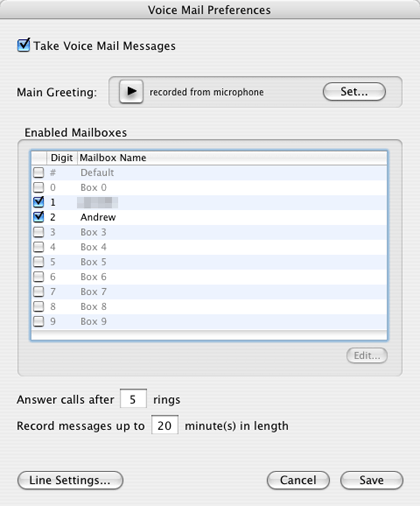 The Voice Mail Preferences dialog lets you change the number of times the phone rings before PhoneValet answers and lets you manage your voice mailboxes, greetings, and phone menu options. Phone menu clips and individual greetings can consist of voice recordings, or can be read out by OS X's Text-To-Speech (TTS) engine.
All of the voice mail options worked as expected, but the automated OS X Speech did not work that well. This was not due to problems with PhoneValet, however: the limited signal range offered by standard phone lines makes the computer-generated voice less coherent. Even so, the use of Apple's TTS achieved the positive effects of scaring off telemarketers and piquing the interest of legitimate callers.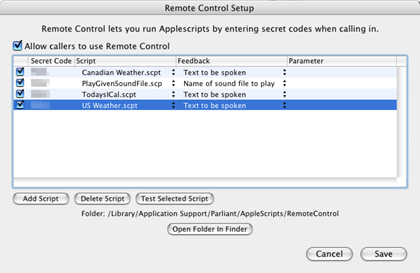 One of PhoneValet's more interesting features is the ability to remotely administer a Mac using a telephone. The Remote Control preferences dialog allows you to trigger AppleScripts using special digit codes. Four example scripts are included which give an indication of this feature's potential: the most useful and impressive of these four is one that reads iCal's daily schedule back to you over the phone.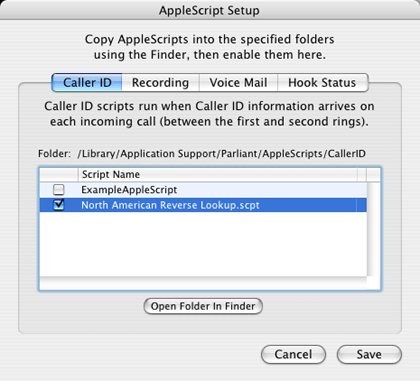 AppleScripts can also be triggered based on PhoneValet's status. For example, iTunes can be automatically muted during incoming phone calls, and a Caller ID reverse lookup can be accompanied by a Web page, loaded automatically to display additional caller information.
Additional Configuration
According to the documentation, the one computer can manage more than one phone line, simply by adding more hardware phone adapters. I was unable to test this feature because I only had the one phone line and phone adapter for testing purposes.
While the only step needed for basic functions is to plug the phone line into the phone adapter, a slightly more complex setup is required to benefit from the adapter's full capabilities. I used a three-way socket splitter ($5 from most stores) to share the phone line between the phone adapter, a regular telephone, and the Mac's built-in modem (for fax purposes).
Phonebook and Call Log
The Phonebook/Call Log can import names and numbers from Apple's Address Book. You can either import its entire contents or restrict the import to a selection of data. As welcome as this feature is, it is disappointing that the PhoneValet Phonebook does not feature dynamic, two-way interaction with Address Book's database.
Once numbers are added and they appear in the Phonebook, double-clicking on a number places a call, which only requires that a phone on the same line be picked up before the number will be dialed.
The Call Log automatically records all information about the phone line usage. This includes outgoing calls (even ones placed without using the computer), answered calls, unanswered calls, and messages. Messages can be accessed from the Call Log without loading the separate Message Center application.
Even without a specific PhoneValet application running, a dialog box will automatically appear during incoming calls, showing Caller ID information. Unfortunately, this feature only attaches the identity of callers for numbers already listed in the PhoneValet Phonebook. If specified in the preferences, number and identity information will also be verbally announced using TTS.
The aforementioned reverse lookup AppleScript included with the software loads a Web page that provides additional Caller ID information; however, this process proved to be too slow to determine if calls from unknown numbers should be answered. It would be extremely helpful if the software could perform this task by itself, a feature common among other caller ID devices, without resorting to AppleScript.
The only bug experienced with the software occurred when the Phonebook/Call Log application was running, in that the computer would hang while attempting to restart. This did not occur with the other applications in the PhoneValet application suite, nor did it occur when the PhoneValet services menu was present in the menu bar.
Message Center
As with the other features, the Message Center is straightforward and easy to use. Calls are recorded in the standard format specified: 3GPP, AAC, or WAV. The Message Center allows for more detailed management of voice mail messages.
Call Recording
Nowadays almost everyone is recording our everyday telemarketing, sales, and customer service conversations. Unfortunately, the average person doesn't have a similar opportunity to record any misinformation that may be presented by the often unscrupulous people or organizations at the other end of our phone line. While this may seem paranoid, many of us have experienced situations where we just wish we had a copy of a phone conversation to prove something.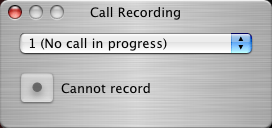 PhoneValet solves this problem simply and easily. Any phone call can be recorded, whether dialed from the computer or manually. The recorded messages are legible and available in the same formats specified in Message Preferences, so conversations can be archived or even e-mailed if necessary.
• • •
PhoneValet is an extremely reliable and easy-to-use product that works exactly as advertised. The interface makes the manual almost unnecessary, something Mac users have come to expect from the better products available. Thankfully, the software imports contacts and info from Address Book, and for larger organizations the system is scalable for multiple phone lines with the purchase of additional phone adapters.
It would be highly useful if the PhoneValet Phonebook were dynamically integrated with Apple's Address Book, and a plus if there were direct display of Caller ID reverse lookup from within the PhoneValet software. These criticisms are however minor, and overall the PhoneValet system is a great, high-quality solution.