Review: BOOQ BP3 System
Developer: BOOQ
Price: $160
Requirements: a 15-inch laptop for the PowerSleeve 15
BOOQ (pronounced like "Luke") has quietly emerged from the recesses of California to become a leading manufacturer of quality computer bags. Its goal is "the fusion of toughness and comfort in design," and I would have to say it has accomplished that in its flagship product, the BP3 System.
Building off the BP3 backpack, the System adds the PowerSleeve of your choice, up to 15 inches in size, the PDApaq PDA case, and the FonePaq mobile phone case. Individually, these items combined would cost between $197 and $212, so the System is a good value at $160.
The BP3
The backpack itself can be used without the PowerSleeve, and I have done so many times, when I either did not require or did not have the PowerBook. While it won't compare to the Brain Bag in its overall capacity, the BP3 is loaded with pockets and storage space. I was able to cram everything I "must" have with me while "Book-totin" and still had room left over to wedge my camera bag in on top. Again, it doesn't match up to the Brain Bag in capacity, but I favor the BP3 because of its pocket and zipper layouts.
One bit of customization the BP3 offers over other bags is the Shell, a single pocket padded piece that snaps onto the backpack. BP3 Shells are offered in a variety of colors, with even a camouflage pattern for the militarily deployed PowerBook driver. My Shell is black, on a gray BP3.
The BP3 with its Shell detached.
The BP3 also features a multimedia pocket, which has a pass-through for your iPod's headphones or earbuds. The pocket is covered up when the Shell is in place, but you can still run the line for your cans without issue. Personally, I never used this feature, as my iPod tends to be located on my hip in its Contour Showcase.
A PowerSleeve for a PowerBook
My BP3 System arrived with a PowerSleeve 15, for my Titanium PowerBook G4/500. The PowerSleeve is solidly built from ripstop ballistic nylon and can be used as a carrying case in its own right, if all you want to carry is your PowerBook, its AC adapter, and a magazine or two.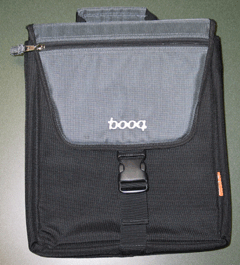 PowerSleeve
The PowerSleeve comes with its own strap for over-the-shoulder carry and has a comfortable handle at the top for quick transport to that meeting in the executive boardroom. There is a small zippered pocket on the front flap, which the yo-yo AC adapter for my PowerBook easily slid into. The large zippered pocket on the back holds the adapter-to-wall cable that goes with the adapter. It can also accommodate a couple of magazines or file folders.
I normally do not care for vertical carrying sleeves, but the PowerSleeve is among the best-looking of the lot and feels hefty enough to me to be used as a stand-alone carrying case.
I no longer have the PowerBook G4/500, as it belonged to my former employer. After being laid off (along with 100 other fellow IT workers), I did acquire a 12-inch PowerBook G4/1 GHz. The PowerSleeve 15 holds the smaller PowerBook sibling ably, though I slide it in horizontally, as opposed to the vertical alignment of the 15-inch PowerBook. Still, I would recommend the PowerSleeve 12 for those with smaller Mac portables.
Pack Paqs
Two other pieces of the BP3 System are the PDApaq and the FonePaq, small pocketed cases for, you guessed it, PDAs and mobile phones. The FonePaq can also be used as an iPod sleeve. Both are designed to be used either on your belt or on the BP3's shoulder straps.
The versions of these two pieces are different from the original ones I received, pictured below. I have not had a chance to use the current versions, but it appears they fix my only druthers with the BP3 System. The original PDApaq and FonePaq did not have Velcroed flaps, but rather the flaps were zippered on top, and I found it difficult to use them with my Palm Tungsten T2 and Motorola flip-phone. The new versions make access to these mobile devices much easier and are welcome replacements.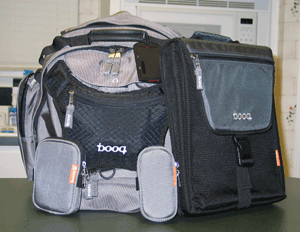 Booq'em, Mac-o
The BP3 System has become my new favorite backpack system for PowerBook portability. It accomplishes the dual mission of form and function set forth by the company, offering individual customization through different bag and shell colors, as well as having a layout that makes it easy to get to anything quickly. My BP3 has been on numerous cross-country trips and has held up very well in getting tossed about in planes, trains, and automobiles.
BOOQ offers a 100% satisfaction guarantee (within 30 days of purchase), a 100% price guarantee (within 90 days of purchase), and a 100% lifetime warranty on its products. There is a 0% chance of you going wrong with this pack system.