Review: iCurve
Developer: Griffin Technology
Price: $40
Requirements: Any notebook computer, though it is designed specifically for a PowerBook or iBook.
Trial: None
Run, do not walk, or click, to your nearest Griffin Technology retailer and buy an iCurve. You will not regret it. Thus concludes the shortest product review in ATPM history.
Now, you don't think our friendly neighborhood publisher is going to let me get away with that, do you?
Let's face it, a lot of Mac users care about style. Whether it's the curves of the hardware, the GUI of the operating system, or that one application with a little something special interface-wise, one thing that sets Mac users apart is style. The myriad offerings from Apple since Steve Jobs' return, coupled with the promotion of Jonathan Ive, are testaments to the power of style.
So it should come as no surprise that the iCurve, from Griffin Technology, is the epitome of style for PowerBook and iBook users, as far as notebook stands go. Made from clear acrylic, with a slick, swooping style, the iCurve is designed to position your PowerBook more ergonomically for a desktop environment. As I mentioned in a previous notebook-stand review, more and more Mac users are moving to a PowerBook or iBook as their main system, but want to use a full-size keyboard and mouse, and perhaps even a larger-size monitor, when they're not traveling about.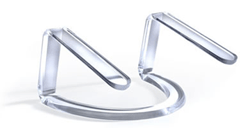 The iCurve blends form and function into a healthy computing environment for Mac portable users. Its open design not only allows unrestricted airflow, cutting down on how often your PowerBook's fan might kick on, but it provides a convenient place to slide your full-size keyboard onto when you're finished using it, clearing valuable desk space. In addition, the iCurve's height is perfectly suited to match the PowerBook's display with any of Apple's LCDs, as shown in this press photo.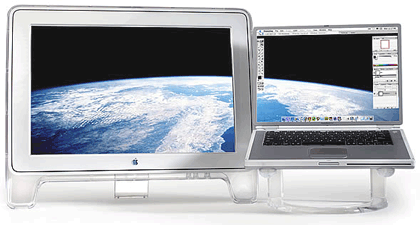 Personally, I don't use an external monitor with my 15" PowerBook G4/500, but I do utilize a full-size keyboard and mouse. For me, the iCurve is the sum of style and function; I've received many compliments, "wows," and a few "gee whizzes" from my co-workers as the iCurve floats my PowerBook above my desk's surface.
Another plus I noted with the iCurve is that most external drives will easily fit between its legs. My PowerBook has only a DVD-ROM drive, so at home my LaCie CD-R sits under my iCurve for easy access when I need to load or burn a second CD.
You can type directly on your PowerBook's keyboard while it rests on the iCurve, but I wouldn't recommend it. If you're a hard typer, you may find that the iCurve bounces too much for your liking. In addition, on the iCurve, as with the Lapvantage Dome, the keyboard is really too high for long typing bouts.
When I first received my iCurve, I was a bit thrown by how easy it would be to turn. One advantage of the Lapvantage Dome is that its base rotates quite easily, allowing one to pivot the screen—in a completely wireless situation—a full 360 degrees in the horizontal plane. Never fear, however. The iCurve's acrylic surface slides quite easily on most surfaces, so it's not a real issue with this stand. Purists might be concerned with scratching on the bottom of the iCurve from prolonged use in this regard, but I haven't noticed any significant markings. The iCurve ships with a pack of rubber feet that you can stick to the bottom of the stand if you prefer it to be immobile.
Griffin Technology has a proven winner in the iCurve. Heck, I like it so much, I have two! Now my PowerBook rests comfortably at an ergonomically pleasing height both at the office and at home. The iCurve supports any portable in Apple's lineup, including the 12" and 17" PowerBooks. You can order online from Griffin or drop by your local Apple Store to pick one up.