Review: AlphaSmart Dana
Developer: AlphaSmart, Inc.
Price: $399.99
Requirements: USB port or USB PC Card for synchronizing with a Mac
Trial: 30-day trial available only to educational institutions
A little over two years ago, I reviewed the AlphaSmart 3000IR. AlphaSmart's latest revision, the Dana, looks similar but actually goes far beyond the capabilities of the 3000IR, serving as a sort of cross between it and a laptop computer. In the month that I've been using it, I've become completely hooked. The Dana is light and sturdy enough to take anywhere, and is also convenient and versatile to use, offering a great deal of functionality in an easily accessible way.
Hardware
The AlphaSmart Dana is a two-pound all-in-one keyboard and screen device, made of sturdy feeling dark blue plastic. I like my Dana too much to test this, but AlphaSmart designed the Dana to withstand a drop from four feet. Suffice to say, you do not need to buy a special padded laptop bag for your Dana. Toss it in your backpack loose with papers, pens, and books, and it'll be fine. (A case that doesn't scratch or smudge? You paying attention, Apple?) The Dana looks far more professional than either the 3000IR or a similar product I've reviewed, the CalcuScribe. You can take the Dana into a meeting and not look like you're using a toy.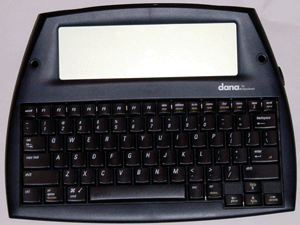 Tucked securely into the right side of the Dana is a stylus. (There are stylus holders to either side of the screen for use while the Dana isn't being used.) The presence of a stylus hints at the huge difference between the Dana and the 3000IR. The power of a stylus (your finger will work fine if you don't require precision) with a touch-sensitive screen makes editing documents much easier, and allows a great deal of functionality that you really can't get with a keyboard alone.
The screen is a comfortable size. Its 560x160 pixels can display up to ten lines of working text (in addition to a header bar) in a comfortably readable font. Better yet, the screen can be backlit if you're working in low light.
The Dana's battery can be recharged either by plugging the unit into the wall or by connecting it to your computer's USB port. AlphaSmart claims the Dana can be used for 25 hours on one charge, though using the backlight will naturally drain the battery faster. It's comforting to not have to constantly worry about recharging, but what if the rechargeable battery runs out and you can't recharge? Pop in three AA-sized batteries and keep working. Simple enough.
The keyboard on the 3000IR was, for me, a big con: it felt cheap and was uncomfortable for me to use over extended periods of time. This is hardly scientific, since I don't have a 3000IR in front of me to compare directly, but I find the Dana's keyboard to be much more comfortable than I remember the 3000IR's being. Of course it doesn't approach the comfort level I experience with my PowerBook's keyboard, but it's good enough. The top row of keys on the Dana's keyboard includes eight function keys, as well as application keys, which take you directly to many of the applications included on the Dana. This offers easy one-button access to whatever you want to do.

There is one more button in that top row however, and it is the only fault in the hardware design: the power button. This was a problem with the 3000IR, and I really wish AlphaSmart had rectified this problem when they made the Dana. Since the power button is just another key, it's too easy for something to press against it while you're carrying the Dana in your backpack. (Curiously enough, the Dana offers an option to allow some or all of the application keys to act as additional On buttons, which only increases the risk of an accidental power-on.) Once the Dana is on, any future accidental key presses will end up in the last document you were working on, so the next time you use the Dana you may find a bunch of gibberish on the screen or, worse, that some of your document has been deleted.
A good, firm switch on the side of the Dana could easily prevent this problem and would not at all detract from the product's ease of use or aesthetics, and the cost would surely be minimal.
There are a number of ports on the back of the Dana: an IR port (I love IR printing, which works flawlessly), power jack, two USB ports (one for connecting to a computer, one for printing), and two expansion slots that can hold MultiMediaCards or Secure Digital cards. The Dana comes with a power cord for non-battery use or battery charging, and a USB cable for connecting to a computer. It doesn't come with any MultiMediaCards or Smart Digital cards, so I was unable to test that functionality, but they can act as additional storage space or as compatible expansion devices.
Operating System
Here's another huge difference between the Dana and its predecessor: It runs PalmOS 4.1. I had never used a Palm device before I got the Dana, so if you have, this section will probably be skim-worthy at best. I am told that since the Dana uses the Dragonball VZ chipset, it cannot run PalmOS 5.0, but that PalmOS upgrades that are compatible with its chipset are possible with collaboration between Palm and AlphaSmart.
If you're used to a two-minute startup on your Mac, you're going to love PalmOS: there is no booting process. Turn the Dana on, and it's on. It starts up exactly where you left it when it shut off: in the middle of a document, or displaying your calendar, etc. In other words, when you want to use the Dana, it won't slow you down. Turn it on and get to work.
PalmOS took me a little time to get used to, but not much. The key is realizing that it's designed to be efficient. In some ways, it's really a treat to use, especially combined with the Dana's hardware. For example, it's much easier to switch programs on the Dana than on a Mac: it's as though every program on the Dana is always running in the background. Press its button, and there it is. (If it doesn't have a button, it can be assigned to one of the eight function keys, or opened from the Apps screen.)
I still haven't quite gotten used to the fact that you never quit anything. When you're done with a program, you just leave it there, or switch to something else. Scrolling is intuitive, and command keys like Command-S and Command-O do exactly what you expect them to. In short, five-star ease of use.
I suppose Graffiti is pretty well known: it's the handwriting recognition element of PalmOS. Frankly, it works rather differently than I expected, and I never use it: with a keyboard, there's no need. Graffiti lets you enter one letter at a time, using a slightly altered version of the alphabet…but you can only enter it into a special handwriting recognition box, not just anywhere on the screen. I ended up mostly using the stylus for navigation, selecting text, and, yes, playing games.
The biggest advantage to using PalmOS, though, is availability of programs. Only a relatively small subset of PalmOS applications (of which there are over ten thousand, according to AlphaSmart) are "wide screen enabled," to take advantage of the Dana's much-larger-than-a-Palm screen. Those applications that aren't will still run in the middle of the Dana's screen, with the handwriting recognition window to either the left- or right-hand side depending on your preference.
Alternately, the Dana's display can be rotated 90 degrees in either direction, giving you a tall skinny screen rather than a wide short one. Of course, that leaves the keyboard sideways, so I rarely do that; but when for example reading an eBook, a tall thin column can be more comfortable to work with. Other applications, such as AtomSmash, a Breakout-type game, require the screen be turned on its side.
Synching
The other biggest advantage to using the PalmOS is that synching the Dana with your Mac is simple. Install the Palm Desktop software on your computer, and with the press of a key combination on the Dana all your data are saved to your Mac. Under OS X, insanely, my AlphaWord documents are saved to /Users/[username]/Documents/Palm/Users/[Palm username]/AlphaWord/ by default, which, well, is just not fun to navigate to. Eventually, I found a well-hidden way to set where I want documents saved.
Palm Desktop also lets you send files from your Mac to the Dana. That lets me work on this review from either my Mac or my Dana, meaning the Dana can be used for doing some serious long-term work. In addition, the Dana's small size makes it far more comfortable to use on, say, a public train, than a notebook computer could ever be.
Synching AlphaWord documents is done in collaboration with a program called AlphaSync, whose purpose is to let you select documents on your Mac that you'd like transferred to the Dana. The UI in the OS X version is buggy: in the above picture, the middle of the list disappeared after I added a new file to be synched. A file cannot be removed from the list by hitting the Delete key; you have to use the button. There are also some tremendous issues with just what files can be imported, but I'll get to that in the AlphaWord section.
PalmOS programs can be downloaded to your Mac and installed via HotSync, and presumably upgrades to programs like AlphaWord can be applied the same way, which is great.
This can't be considered synching, but it is a neat trick if you're in front of an unfamiliar computer that doesn't have Palm Desktop installed and you want to send a file from the Dana to the computer. Plug the Dana into the computer's USB port, open the AlphaWord file you want, open a blank document in a word processor on the computer, and hit "Send" on the Dana. This makes the Dana type the document to your computer, very rapidly and without any of the problems I encountered doing this with the 3000IR. Keep in mind that if you "sync" this way, formatting such as font size and italics will not show up on the receiving computer. For me at least, that's not an issue.
AlphaWord
I've mentioned AlphaWord a few times now, so what is it? AlphaWord is the Dana's word processor, written by AlphaSmart especially for use with the device. Having AlphaWord up on the Dana is a lot like using a 3000IR, in that it's mind-numbingly simple to use. That's part of the beauty of the Dana; it packs in a tremendous amount of functionality while maintaining the ease of use of a much less powerful product.
Like the 3000IR, AlphaWord can have up to eight different files open at a time, and lets you navigate quickly from one to another by pressing one of the eight function keys on the keyboard. Unlike the 3000IR, AlphaWord lets you save and name your files, so you can keep more than eight easily identifiable files in total on your Dana. The Open… dialog box shows you which function key applies to which opened file, but curiously fails to take advantage of the Dana's wide screen, forcing you to scroll down to see all your files.
AlphaWord lets you embolden, italicize, and underline text. Text can be justified, and different fonts and sizes can be used. Documents can be password protected if desired, but the file will not be protected on your computer after HotSyncing, so the actual security this option provides is pretty minimal. Find/Replace, Word Count, Spell Checking, and even a Thesaurus are all available within AlphaWord.
The ability to save formatting, at least for me, turns out to be a kind of a minus. Here's why: AlphaWord saves its files in Rich Text Format (RTF), not plain text. That means synched files are a lot less universal than I'd like. I have to use Microsoft Word or Nisus Writer or some other RTF-capable program to open my documents on my Mac, even if I've applied no formatting at all. There needs to be a preference to save documents as text, or at least an option in the Save As.. dialog box.
Even with applications that claim to support RTF documents, things aren't perfect. When I open an AlphaWord file with Nisus Writer 6.5, all the return keys are doubled. In Microsoft Word 5.1, all of the text is underlined. Microsoft Word v.X displays the file just fine. I'm not sure what's going on here, really. Nisus Writer opens an RTF made with Word 5.1 as though it were text, displaying all the RTF codes; Word 5.1 opens an RTF made with Nisus Writer flawlessly. Maybe the problem lies in the word processors, or maybe AlphaWord isn't encoding its RTF files quite right. Wherever the cause lies, there are minor anomalies to be aware of.
The same RTF file opened by two different programs. Top: MS Word 5.1. Bottom: Nisus Writer 6.5.
Unfortunately, it gets worse: not only is AlphaWord incapable of saving documents as text, it's incapable of reading documents saved as text as well! So before I can put a BBEdit document on my Dana, I have to open it with Microsoft Word and do a Save As…. AlphaWord refuses to recognize an RTF file created with Nisus Writer, though Word has no problem with it. RTF files created in either Word 5.1 or Word v.X work fine.
While I'm at it, I'll mention two other, really minor, changes I'd like to see to a future version of AlphaWord: First, as a left-hander, I'd really like an option to make the scroll bar appear on the left hand side of the screen. As it is, I can't easily see the text of the document as I scroll, as my hand is in the way. Second, when you're on the last line of a document and you press the Down Arrow key, you should be taken to the end of that last line. That's how it works in all of the Mac apps I use, and I'm accustomed to just Down-Arrowing to the end of a document to start typing.
Other Applications
The Dana, thanks to PalmOS, is not just a word processor. It has a datebook, an address book, a to do list, and a memo pad, all built in and all viewable with the Palm Desktop program once you've synched with your computer. Somewhat to my surprise, I actually use these apps.
When I first heard about the Dana, I wanted to think of it as a sort of 3000IR on steroids, and figured I'd just use it for word processing. But if memory serves, one of the documents I had on the 3000IR was, essentially, a to do list. Now, I have an application for it.
I used to keep track of phone numbers and addresses on random pieces of paper, or in seperate computer files at home and at work, depending on how I knew the person. Now it's all in one place, and always at hand. Each of these applications is simple and well thought-out.
Documentation
Usually, I expect to have to complain about poor documentation; it's just not a priority for most companies these days. AlphaSmart is a welcome exception. The Dana ships with an 82-page Getting Started printed manual which is reasonably well organized and well written, with a two-page index in the back. AlphaSmart gives its contact information, including e-mail address and phone number, for use if you have problems.
The Dana also comes with a CD containing a 220-page PDF User's Guide. In all honesty, I only skimmed it, reading at random a few sections; I felt the Getting Started manual was more than enough to get me comfortable with using the Dana and answer questions I had.
Conclusion
I very much enjoy using the Dana; its simplicity and convenience encourage me to use it, and its sturdiness, light weight, and long battery life encourage me to keep it with me even if I don't anticipate having to use it.
The PalmOS and its applications are designed to let me do what I need to without getting in my way or slowing me down. At the end of the day, AlphaSmart's Dana only has two real flaws, both of which can be overcome. Not bad at all for something as complex as a portable computer system. If you're a writer, either for fun or professionally, the Dana could well become your favorite portable.