Review: Avalanche 1.0.1
Developer: Dracosoft
Price: $9.99
Requirements: Mac OS 8.6 or Mac OS X
Recommended: G4 processor, Mac OS 9 or Mac OS X
Trial: Feature-limited (limited hours of play)
Avalanche is one of the most addictive games I have ever played. The concept of the game will be familiar to those who have played Space Invaders. In Space Invaders, the object is to keep the aliens at bay by shooting them as they menacingly drop down toward the bottom of the screen. In Avalanche, it's like Space Invaders turned on its side. Keep the Avalanche from sliding to the right side by clicking on a group of three or more ice-capped blocks of the same color or by blowing up the blocks with bombs. However, as you progress, the Avalanche creeps faster and faster to the right.
How To Play
Click on three or more blocks of the same color to eliminate the constantly moving avalanche. When the blocks touch the right side of the screen, the game is over.
The larger the number on the blocks you eliminate, the more points you get. And, you can get extra points when you eliminate blocks near a number block. For example, the "x2" block, will double the score or the "+25" will add 25 points.
Use the bombs to eliminate all the blocks of one color. For example, a yellow bomb will eliminate all the yellow blocks on the screen. A black bomb will eliminate all the surrounding blocks no matter what the color, but it also eliminates the bonus number blocks, so be careful.
Of course as you progress to higher levels, the Avalanche moves faster and faster. This makes the game very challenging (you'll really get to work on that hand-eye coordination) and addictive.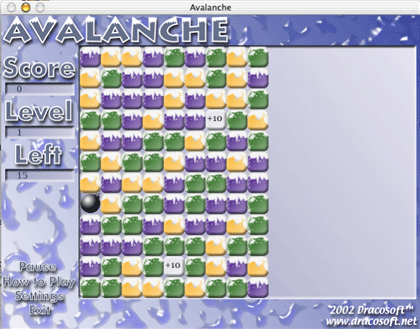 Keep your eye on the avalanche! It gains speed very quickly.
The Interface
The Avalanche interface is clean and uncluttered. The screen opens with the High Scores so you can see who's ahead and what score you have to beat. Options are built right into the interface in the lower left-hand corner (no pull-down menus). Everything you might need is right on the screen. Click on New Game to start a game; it becomes the Pause option when the game is in play. The How to Play option has no lengthy instructions, just one page of rules. There is also a Settings option where you can choose your starting level of 1, 4 or 7, turn the sound on or off, or turn the full screen on or off. It's so simple! Graphics are clean and cool: the snow-capped blocks look like cupcakes with icing sugar. Nothing beats cool-looking graphics.
Overall Impressions
Avalanche is certainly an addictive game. I played it for hours (I got to level 11 and my highest score was 247,344) and am still trying to beat my high score. It's a great game and lots of fun. I would highly recommend paying the shareware fee. You certainly won't be disappointed.