Software Review
StoryMill 4.0.1

Function: Novel writing software.
Developer: Mariner Software.
Price: $50 (download); $25 (upgrade)
Requirements: Mac OS X 10.6.
Trial: Fully-featured (30 launches).
"I'm going to write a book." One of those insane ideas that pops into your head from time to time—most often at three in the morning. Chances are you push it right back out of your head again, but what if you can't? What if the story is there, begging to be told, and you—writing newbie that you are—have no idea where to start?
You could sit down with a notebook, or open up your favorite word processor, and start writing, but even if you beat the blank page for a while, sooner or later you're going to get stuck. Maybe you're having trouble organizing your ideas, or you're forgetting which character is which, or who did what when. It's a lot to keep in your head, so you write pages and pages of notes or save multiple files with background stories and character descriptions, and it's all a great big mess. Isn't there a program that can keep all that stuff together where you can find it and maybe even help keep it straight?
Actually there are a few of them, and they compete with each other for both novice and experienced writers. I got a chance recently to try out one of them: StoryMill 4.0.
Getting Started
StoryMill offers a couple of options upon launch. In the File menu, you can choose New or "New from Templates." The "Novel (with submission tracking)" option is probably the best choice. As you'll see later, this option includes a panel to list agents and publishers, and we have to hope that you'll find at least a few interested in what you're writing (once you put in the requisite research and leg work through writers' groups, conferences, etc.—there are some things that no software can do for you).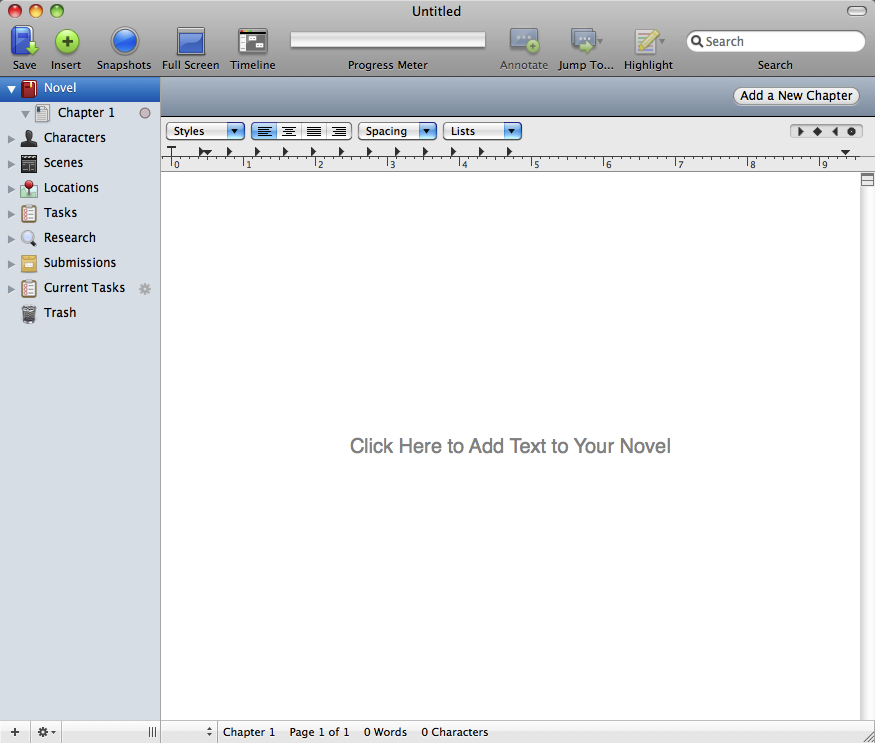 New Template
Now you have an untitled project. To the left you'll see a menu listing Novel, Characters, Scenes, Locations, Tasks, Research, and Submissions.
Importing and Exporting
StoryMill's file format is proprietary, so the Import and Export features are essential. Import will bring any common word processing file into StoryMill, dividing the chapters as long as they are clearly labeled (e.g. "Chapter One"). It has no clue what to do with prologues, epilogues, or non-traditionally titled chapters.
I tried importing my manuscript-in-progress—a very large file—to see how it did. It divided the chapters correctly but screwed up the formatting. Even if I fixed the formatting, I'd have to add scenes, characters, and locations by hand—not really worth the effort. In this case I think I was expecting more of StoryMill than it was designed to do.
Exporting is straightforward. Select File ‣ Export, choose "Chapter text" in the Template list, select a file format from the pop-up menu on the bottom bar, and click Export.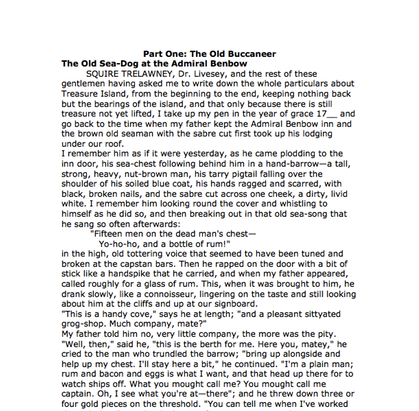 Sorry Mr. Stevenson, We Are Not Accepting Submissions at This Time
Then format in your word processor of choice, because StoryMill defaults to single space with no drop downs at the beginning of chapters and indents on first paragraphs but not subsequent paragraphs. Some of these issues can be fixed in StoryMill ‣ Preferences ‣ Editor, but not all of them—I was stumped on drop-downs—so I'd proof in a word processor before printing anyway.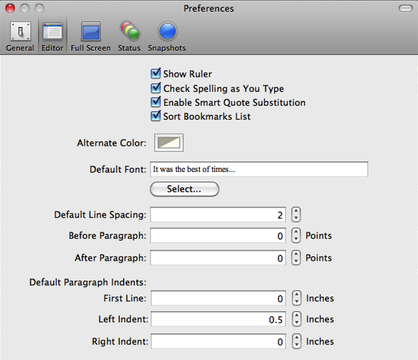 Mr. Dickens, on the Other Hand, Now Has Representation
This is my one complaint about an otherwise wonderful software package. Formatting requirements do vary somewhat from publisher to publisher, but there are some consistent points like double spaced text, chapter titles dropped down about a third of a page, and indenting on all paragraphs except the first one. To have a "novel writing" application marketed to an extent to beginning writers default to slush-pile worthy formatting is unacceptable and just a bit cruel.
And That's Why I Almost Love It
After spending a long weekend playing with StoryMill, I find it to be a very powerful writing tool, better for fiction than non-fiction, and better for starting from scratch then revising. It has so much in its favor and is a great value for $50, but as much as I want to give it an Excellent rating for everything it can do, I can't get past the formatting issue. My advice: buy it if you're looking for a tool to help you get going on a new project, especially if you find yourself wanting to play with chronology and subplot. But be ready to export and edit in word processor before you send it to agents or publishers. Otherwise, you're wasting both your time and theirs.