Software Review
PDF Studio Pro 6.6

Function: PDF annotation editor.
Developer: Qoppa Software
Price: $95 (Pro); $60 (Standard); $40 (upgrade).
Requirements: Mac OS X 10.4. Universal.
Trial: Feature-limited (watermark on each page of the PDF document).
The PDF format is everywhere. Its ascent began in the 1990s, when software manufacturers went paperless and included complimentary copies of Adobe Acrobat Reader on every disk. Then in the last decade, Mac OS X made saving PDFs as easy as printing them. Finally, in the last few years e-readers have multiplied, and anyone could upload a book to Amazon without a publisher or an agent (or, in some cases, a copy editor or proofreader).
Reading PDFs is easy, but editing them means buying software. Adobe Acrobat is by far the most-used application, but it also costs a minimum of $299 ($449 for Acrobat Pro). Other software companies make lower-priced alternatives, though, and last month I got to try out one of these applications: PDF Studio Pro.
Annotations
PDF Studio Pro features a wide array of annotating tools, including text highlighting, strike-through, and underline; a typewriter tool; various drawing tools; and custom stamps, all displayed in a toolbar at the top of the screen. In just a few lines of sample text, I made use of almost all these tools.
An Annotated Page
The custom stamps are my favorite annotation tool. When going through printed drafts, I find myself writing the same notes over and over. I use adverbs liberally, my clichés spread like the plague, and sometimes I even phrase sentences more awkwardly than I should, so I've made made stamps for all three. I saved each stamp in a custom category called "Editor's Notes," where I now keep all my most-used markups.
Input and Output
PDF Studio handles a variety of file formats, including PDF (of course), JPG, TIFF, GIF, text, and .doc (but not .docx—no one likes .docx files except Microsoft). It also includes options to open a PDF from a URL (though it won't open an HTML file), or from Google Docs or Acrobat.com, as well as options to create a PDF from multiple files, from a scanner, or from a blank page.
I selected "Create PDF from Multiple Files" (in the File menu) to combine a series of scanned JPEGs into a single PDF document. Ideally, I would have scanned the booklet myself—selecting "Create PDF from Scanner" in the same submenu, but these files had already been sent to me via e-mail and I didn't have the original booklet in my possession.
"Create PDF from Multiple Files" includes options to "Add Files" and "Add Folder." Since I had already edited and saved these scans in a folder on my desktop, I chose "Add Folder." My only complaint is that I was placed at my root directory, and if I didn't know my computer's file system as well as I do it might have taken several minutes of digging to find the desktop. (The standard Command-Shift-D shortcut does not work in PDF Studio's file dialog.)
Once I selected the folder I wanted, the files were listed in alphabetical order—I prepared the files to list in page order—and opened up as a single, annotatable, PDF file.
Once open, I added several bookmarks in the side menu, renaming each by right-clicking, and within a few minutes I had a functional table of contents.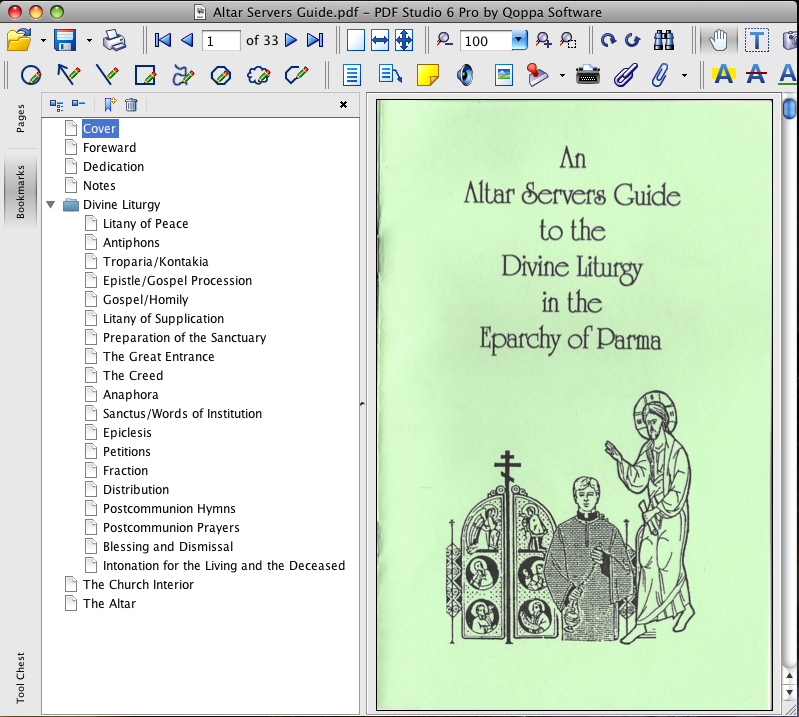 A Booklet With a Table of Contents
Batch Processing
PDF Studio Pro also features robust batch processing. The example I gave above of creating a single PDF from multiple JPEGs is just one of many ways in which the Pro version works with batches. The Batch menu lists many others.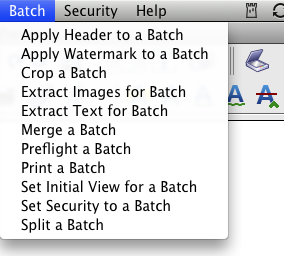 The Batch Menu
If I'd had a printed copy of the Altar Server Guide I used in the above example, I would have been able to scan it directly into PDF Studio and used the "Crop a Batch" option instead of individually cropping each JPEG in Preview. (Note: I tried batch-cropping the JPEGs, but PDF Studio only batch-processes PDFs.)
Forms and Signatures
PDF Studio recognizes interactive forms, just like Preview and Acrobat Reader do. It also lets you sign documents with a password-protected digital signature.
Digitally Signed Form
PDF Studio gives the user the option to change the appearance of the signature, either by changing the font or by importing a scanned signature. I chose the generic option for the above example, but I could have just as easily scanned my own signature.
The One Flaw
I was all set to give PDF Studio Pro an Excellent rating, but in the middle of annotating a file I made a mistake and hit Command-Z to undo. Nothing. I checked all the menus and could not find an undo option with or without a keyboard shortcut. For that flaw alone, I can give no more than a Very Nice rating, despite how much I like the application otherwise.
Last Thought
Looking at Qoppa's side-by-side comparison chart, one can see how PDF Studio Pro does everything Acrobat Pro ($449) does for less than a quarter of the price. I see myself using this application to edit essays, articles (including this one), and manuscripts. It is versatile, powerful, and affordable, and any near-starving writer will appreciate all three.