Function: Secure access to Bonjour services on remote networks.
Developer: Yazsoft
Price: $15 (one license); $25 (two licenses); $45 (five licenses)—two licenses minimum required for operation.
Requirements: Mac OS 10.5.8. Universal.
Recommended: Universal Plug-n-Play capability on host network's router.
Trial: Fully-featured (maximum of 15 minutes per session)
Last year, I discovered ShareTool as an inexpensive means to gain access my computer at home from anywhere. Besides file sharing, ShareTool allowed me to perform remote screen sharing, stream my iTunes library as if it were on my local network, and more.
ShareTool 2 provides the same features as its version 1 predecessor, but with a completely overhauled approach to initiating a connection. Since my ShareTool 1.3.1 review still adequately describes the benefits of using ShareTool, this review will focus mostly on the overhauled connection method.
In ShareTool 2, you are no longer required to either know the host computer's IP address or use any means of assigning a static or dynamic domain name. Instead, Yazsoft now maintains an authentication server, which initiates a connection by way of a login e-mail address and password. Once authenticated, the server establishes communication between the local and host machines, at which point the connection is entirely peer-to-peer. In other words, only the authentication takes place on Yazsoft's server. Afterward, your data and activity securely pass only between your computer and the one to which you are connecting.
Creating a ShareTool account.
Creating a ShareTool authentication account is simple and automatic. As soon as you begin sharing for the first time, you are asked to create an account with an e-mail address and password. Once created, enabling sharing is a one-click process.
ShareTool automatically configures a router with Universal Plug-n-Play settings. If UPnP is not supported, ports can be manually mapped.
On the other end of the connection, after launching ShareTool, you use the same e-mail address and password to access the host computer.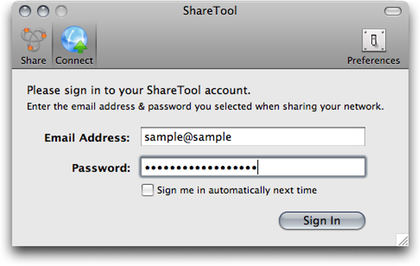 Remembering IP addresses and port numbers are a thing of the past. Connections are now initiated by an e-mail address and password.
Once authenticated, a list of available computers is presented. By purchasing a ShareTool license for each computer in your home, you can access as many machines as desired from a remote location.
A list of available computers appears after authenticating through Yazsoft.
Once a connection to a computer is established, all of its available services are displayed.
Just as with ShareTool 1, after connecting to a host computer, available services can be initiated from a list within the ShareTool application, or via native places such as the Finder sidebar, iTunes, iPhoto, etc. You'll have access to file sharing, screen sharing, printer sharing, iTunes streaming, and more. ShareTool 2 also supports iTunes' new Home Sharing feature. The services window is also where you can initiate a secure Web browsing session using the Firefox browser. When active, Web traffic is encrypted and routed through the host computer—great for keeping your data secure when using public Wi-Fi.
As soon as I learned that ShareTool had switched to using an authentication server to initiate connections, my very first question was, "How would I connect to my home computer if the authentication server was down?" Yazsoft is on record with high confidence about the uptime on its server. I use ShareTool numerous times each week to access my home computer from work. Granted, two months is not a significant sample period; however, the authentication server has never been inaccessible in that time. Just the same, as an advanced feature, the ability to directly log in with a known IP address and port number in the unlikely event of an outage with Yazsoft might make power users happy. This would also allow the ShareTool to retain functionality should Yazsoft ever find itself in the position of having to permanently discontinue the authentication servers.
In ShareTool 1, after a host computer was set up for sharing, it was possible to define specifically which services were shared. For example, if I only wanted to use ShareTool to access iTunes streaming, I could have only enabled that service. If someone managed to acquire my connection information and log in, file and screen sharing would be inaccessible, and the would-be intruder would only have access to see what was in my iTunes library and not have full access to my computer. I no longer see any means of limiting which services are shared in ShareTool 2.
On the positive side, ShareTool is now significantly easier to set up. Most users will literally not need to know a single thing about networking or their router, and still be able to connect to their home computer's screen, files, iTunes libraries, etc.
Good news for those on a budget or those with several computers to be made accessible is that ShareTool's price is lower, especially when buying a five-user license.
My single-item feature wish list from ShareTool 1 remains the same for version 2: an iPhone application to access my home computer's screen. Obviously, this wish item is now expanded to call for an iPad-compatible application—preferably universal. And although I still don't imagine that Apple would approve such a thing, if ShareTool could stream my iTunes library to my iPhone or iPad just as it does to another computer, capacity on the device would be of little concern. I wouldn't even be distraught if this could only be done over Wi-Fi. Imagine also being able to send a document from the device to a shared printer at home. With the ability to interact with a Mac at home, ShareTool could be the last piece of the puzzle that would allow someone to give up laptops entirely and use only an iPad while traveling.

Copyright © 2010 Lee Bennett. Reviewing in ATPM is open to anyone. If you're interested, write to us at reviews@atpm.com.