Developer: Yazsoft
Price: $20 (one license); $30 (two licenses); $75 (five licenses)—two licenses minimum required for operation.
Requirements: Mac OS X 10.3.9
Trial: Fully-featured (maximum of 15 minutes per session).
The Macintosh's ability to share information with other computers in your home or office is superb. Apple repeatedly touts how simple it is to move files, browse an iTunes library, share printers, and even look at the screens on other computers—provided those computers are on the same local network.
One means of making a remote computer behave as though it is on a local network is through a Virtual Private Network, or VPN. However, creating and using a VPN is not exactly a click-and-forget process, and many services that use Apple's Bonjour sharing will not work through a VPN anyway.
Apple offers a service called Back to My Mac which allows you to connect to your Mac at home from any Internet connection, but it only supports file and screen sharing, and is part of the MobileMe service which costs $100 per year.
Enter ShareTool. For less than a third of the cost of only one year of MobileMe service, ShareTool enables not only file and screen sharing, but essentially any service, including Bonjour, available on the host computer.
Getting started with ShareTool was virtually effortless. The default preferences are acceptable for most people. I only made three adjustments to the preferences: (1) I configured ShareTool to automatically launch and begin sharing mode on my Mac Pro in the event of a restart, (2) I defined a specific port number to use instead of the default random selection, (3) I configured ShareTool with my No-IP.com account to make use of a domain name instead of an IP address.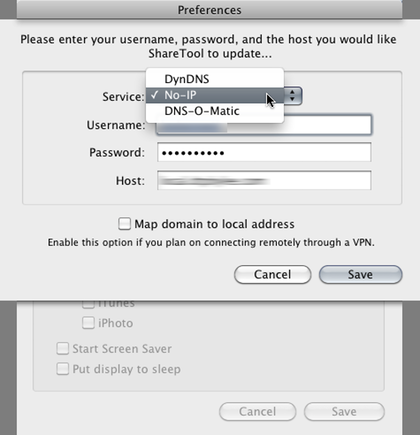 ShareTool is compatible with three different dynamic DNS services to enable connection by a domain name instead of an IP address.
Dynamic DNS services are typically free if you are willing to use a domain the service provides instead of your own custom domain. Either way, using dynamic DNS means never being unable to connect to the host computer due to the host's IP address changing. Just use the small application provided by the DNS service to update records if the IP changes, and you'll only have to remember the domain name.
I also defined a manual port number because if my computer at home ever shuts down due to an extended power outage and reboots upon power restoration (which I have configured in my Energy System Preferences), the restart would cause ShareTool to select a new random port number. Although ShareTool can be configured to send an e-mail whenever this information changes, I see little reason to not just use a manually chosen port.
Once any other desired setup adjustments have been made, it takes just a single click to either begin sharing or connect to a computer that is already sharing.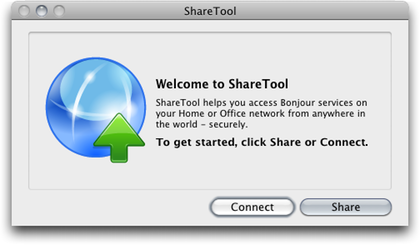 Once configuration, if any, is completed, you're just one click away from sharing or connecting.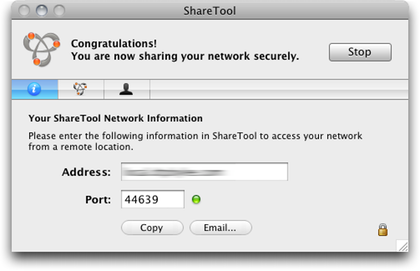 ShareTool's hosting status window.
When running in hosting mode, a small window is all that's needed to keep tabs on ShareTool. The first pane reveals the IP address and port number needed to connect from a remote location. The Address field displays a domain name instead of an IP if a dynamic DNS account was configured, and the Port field displays either the randomly generated port number or the manually specified port number.
The second pane in the hosting status window grants access to all Bonjour services by default. Optionally, you can specify only those services you wish to share.
The third pane serves as a log of remote connections to the host computer.
ShareTool's available connections window.
When a remote computer connects to a host, ShareTool displays a window listing most commonly used services that are available from the host. Additional services not listed are available with the Add button in the toolbar. Using a service is as simple as double-clicking the desired service. Alternatively, since ShareTool is designed to make the remote computer behave as if it is on your local network, you'll also find services listed in their usual locations. For example, File Sharing drives will appear in the sidebar in a Finder window, as will the Screen Sharing option. The host computer's iTunes library will appear in the remote computer's iTunes as a shared library that can be streamed, working exactly the same is if you were at home.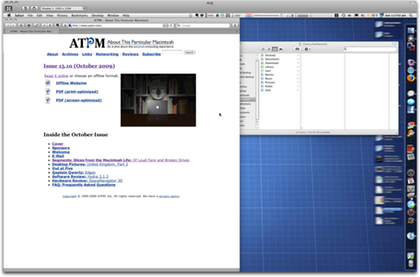 Screen Sharing can normally only be done inside of a local network or by using Apple's MobileMe service. Thanks to ShareTool, I'm accessing my computer at home from my work computer using the Screen Sharing application.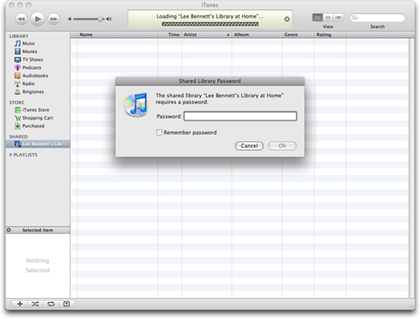 Sharing iTunes libraries outside of a local network apparently frightens Apple since doing so isn't even possible with the $100/year MobileMe service. But with ShareTool, you're just a password away from streaming your music to wherever in the world you happen to be.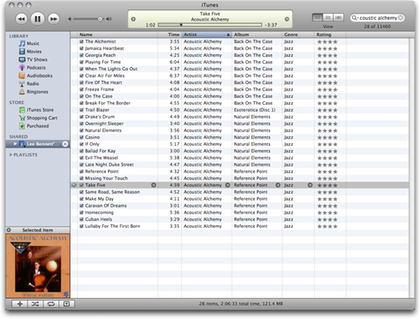 Enjoying a bit of acoustic guitar streamed to my office from my home computer located miles away.
Before you assume you don't need ShareTool because you already have a Virtual Private Network set up and running, bear in mind that many Bonjour services will not work through a VPN connection. Even though a VPN duplicates the task of bringing a remote computer into a local network, ShareTool can pick up the slack by enabling Bonjour services through that VPN.
There are really no caveats to speak of in using ShareTool that I could find. True, a little bit of knowledge about networking is helpful, but generally not required as long as a newer router that supports Universal Plug-n-Play is at the host location. In my case, I could only access my home computer from work. Even though the routers at my office are new, the computer services staff intentionally don't allow them to host UPnP services and I'm not likely to be granted an exception. Some have written that ShareTool isn't much different from MobileMe's Back to My Mac service, but I disagree. ShareTool opens virtually all Bonjour services, unlike MobileMe which only opens file and screen sharing. Plus, ShareTool is just a one-time cost of $30 for two licenses, compared to $100 per year for MobileMe. Lastly, even though ShareTool can be used over a modem connection, a high-speed connection is strongly advised.
Though I can't speculate as to what Yazsoft is planning for the future of ShareTool, one thing I'm certain I would jump at is an iPhone application for access to my home computer. I've written myself plenty of to-dos in various forms via my iPhone to remind me I need to e-mail something to someone when I returned home. Imagine instead tapping into the home computer's screen through the iPhone and setting up an e-mail attachment on the spot! Yes, even though it might be a little cumbersome, it could work. I use a Windows Remote Desktop application on my iPhone on a regular basis, so I see no reason why a Mac version would be any different.
Furthermore, I'd thrill to be able to stream anything from my iTunes library to the phone, even if it came with a Wi-Fi-only caveat. I'd suddenly have a lot more than 16 GB of music in my pocket! Alas, Apple has demonstrated on more than one occasion that the company doesn't intend for us to stream our libraries outside of a LAN. There may not be a lot they can do to prevent ShareTool from doing this from one Mac to another, but I would wager any iPhone application that tried to do this would be denied. Ultimately, the question is, would Yazsoft be up to the task of giving it a shot?

Copyright © 2009 Lee Bennett. Reviewing in ATPM is open to anyone. If you're interested, write to us at reviews@atpm.com.