Software Review
Wii Transfer 2.5.2

Developer: Riverfold Software
Price: $19
Requirements: Mac OS X 10.4, Nintendo Wii console with Internet Channel installed. Universal.
Trial: Feature-limited (Sound in movies not converted; does not support playlists, shuffle, or playing more than one song at a time; slide show images are watermarked.)
I am always on the lookout for new ways to access the media library on my computer through my home entertainment system in the living room. Since I recently acquired a Nintendo Wii console, Riverfold Software's Wii Transfer fueled my anticipation of navigating my media library with the same ease and fun as in other games on the Wii.
Wii Transfer acts as a gateway application on a computer that enables a Wii console to browse and play designated media. The application does this by acting as a Web server, so the Opera browser–powered Wii Internet Channel is required. Early on, the Internet Channel was offered for free. Now that the introductory period has ended, it costs 500 Wii points to download. (Wii points are purchased 1,000 at a time for $10.)
Accessing Media on the Wii
Once Wii Transfer is running and configured, the Internet Channel on a Wii console can connect to the host computer by loading its local IP address followed by a definable port number, such as http://192.168.1.100:9000. Alternatively, an easer-to-remember Web address on the wiitransfer.com domain can be registered.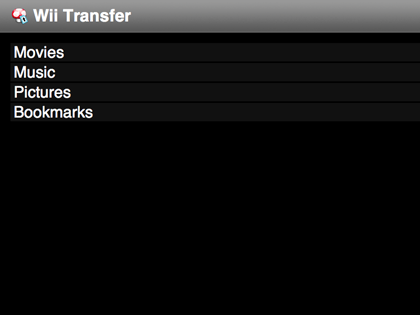 The home screen viewed from a Wii console. The menu includes access to Web site bookmarks currently saved in the computer's Web browsers.
Considering that the menu navigation interface is simply a series of Web pages and not dependent upon any locked-in Wii console interface, I was somewhat disappointed that a means to back up to the previous menu is not provided. Selecting a menu choice is really no problem, but to go back one level, I must activate the Wii Internet Channel's navigation bar. I generally keep this bar hidden because it uses up a lot of screen space.
Music
As seen in the screenshot above, there are no backwards navigation controls—only a single icon in the upper left corner which, when clicked, leads back to the top-level menu.
Navigating a music playlist.
A more significant problem with displaying a playlist is that only song titles are listed with no reference to albums or artists. Maybe I'm not typical, but if I'm skipping through a playlist, I recollect albums and artists much more easily than track titles.
Also, with no other navigation controls, a user must manually scroll down to reach the end—very time-consuming for long playlists.
Fortunately, there is a Search function, but this isn't of much help if, for example, I am thinking of an album name and and only remember that it started with the letter Y.
The Internet Channel on a Wii console can immediately play fixed-rate MP3 audio files without conversion (Riverfold states that variable-rate MP3s will not play properly), but AAC files cannot be played until Wii Transfer converts them to MP3. This is done automatically and on the fly but requires several seconds to complete. Converted songs are held in a cache of a definable number of songs. Alternatively, there is a preference option to ignore AAC files and only display MP3s when browsing music on the Wii console.
Each AAC file that is played must first be converted to MP3. The process takes 5–10 seconds, depending on the size of the audio file.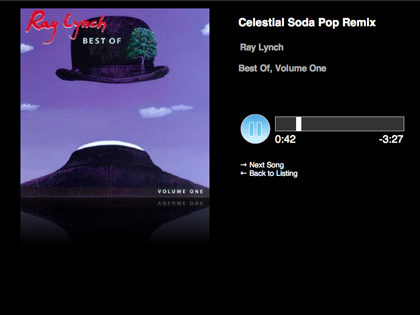 Once an audio file is playing, album art, if any, is displayed along with information about the track, a pause button, and a clickable playhead indicator. There is a link to advance to the next track, but not to access the previously played track.
Movies
As mentioned earlier, all movie files, provided they aren't protected purchases, must be converted by Wii Transfer to Flash format before they can be played on a Wii console. If the movie is already in an iTunes library, it can be selected from a listing in Wii Transfer. Otherwise, any other movie file can be dragged into the Wii Transfer window for conversion. The process can take a while for longer videos, and it can only be done in the Wii Transfer application—not while browsing on the Wii console.
Movie playback is very basic with a generic Flash video-style playhead at the bottom.
The quality at which movies are converted is set in the Wii Transfer preferences. As far as I'm concerned, anything less than the Best quality setting is unacceptable. Even the highest setting only offers 15 frames per second, which appears to stutter in comparison to the 30 frames per second that is normal for broadcast television.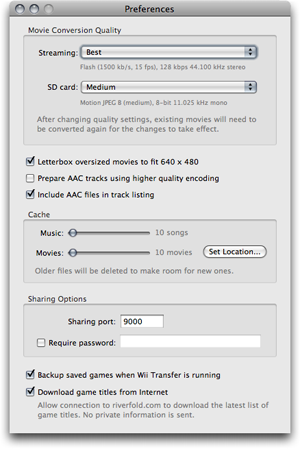 Options in the Wii Transfer preferences include movie conversion quality and the number of items to be retained in the cache.
Pictures
From what I can tell, an auto-advancing slide show is the only option for viewing pictures with Wii Transfer. There is no means for browsing photos manually, instead.
The slide show settings include the option to select a song to play as background music while the pictures are showing—but only one song, which is sure to get old when used for longer slide shows. There is no means to choose all the songs of an artist, album, or playlist for multiple background music songs.
Conclusion
Wii Transfer serves as an adequate utility if the primary goal is to manage backups of saved game data on a computer. The $19 price tag might be small change compared to the cost of a Wii console, making Wii Transfer an inexpensive solution for accessing media. Various dedicated hardware items do the job better, but generally come with a price tag in excess of $100. For those who own one, an iPhone-optimized utility is probably the most ideal solution.