Hardware Review
Time Capsule (1 TB)

Developer: Apple
Price: $299 (500 GB); $499 (1 TB)
Requirements: Mac OS X 10.5 for Time Machine functions.
Trial: None
Ever had that moment, when you fired up your Mac and something just wasn't right? A key file was missing, or maybe the drive itself was on its way to the big bit bucket in the sky? The shaking starts, the irrational panic follows next and, sometimes, the crying ensues. Time Machine, as part of Leopard, was designed to help save our tears, and our files. When I bought Leopard for my MacBook Pro, I also bought a 500 GB drive to keep a good archival record of my Mac's files.
But Time Machine works best when you're constantly plugged into your backup drive. If you back up infrequently, there's a lengthy scanning component that must take place if you're not always connected to your Time Machine volume. Lately, I'd been backing up to my external drive about twice a week via Time Machine.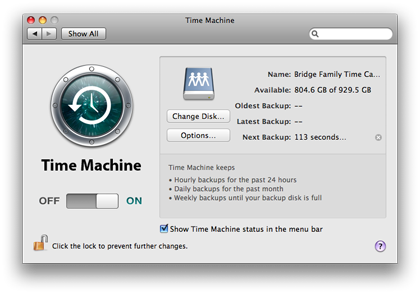 Configuring Time Capsule and Time Machine.
And then Apple released the Time Capsule. We'd been "promised" network backup via Time Machine in early Leopard betas, according to several Web publications, but when Leopard came out, it was oddly absent. Many surmised that networked backups over wireless were too much of a strain for Time Machine's capabilities. I suggest that our experience with the Time Capsule is a confirmation that backup over wireless isn't quite as easy as it's made out to be. But I'm getting ahead of myself.
Time Capsule, hooked up to the network.
Let's talk about our network a little bit. There are three computers and a few random other devices hanging out on our network. My condo has a serious flaw, in that the central wall that separates the living quarters (and the network gear) and the office is made with two layers of cinder block, which means that wireless to the back half of the house is shaky at best, and Ethernet is impossible. Thus, the Time Capsule took over as the WDS "main," and our 802.11n AirPort Base Station moved to the back of the house as the WDS "remote." This process was made incredibly simple by the new version of the base station software that ships with the Time Capsule.
WDS configuration on the Time Capsule.
If you're giving thought to picking up a new base station, put down the Time Capsule as Apple's single best wireless router in a long line of successful models that it's put on the market for home networking. (Let's just pretend that the incredibly unreliable and rightly-maligned "Snow" base station never existed, shall we? Good, I've already suppressed memory of it.) The initial setup allowed me to simply swap the profile of the old base station for the new one. Five minutes from plugging it in, I had switched my network over to the Time Capsule. The last time I switched out network hardware, it was a good half-hour, and there was a lot of cursing going on.
Time Capsule with AirPort Extreme (802.11n) for size comparison.
The Time Capsule has an added feature not previously available to other AirPort equipment: an internal disk. Time Capsule's disk comes in two sizes: Large (500 GB) and Really Large (1 TB), and it features a Hitachi DeskStar drive (on a Serial ATA bus) wired directly into the main board of the Time Capsule. The disk is available as network-attached storage, once you've set it up to be shared over your wireless and wired network, and it works pretty well as a common stomping ground for your home network. If you're looking for a way to share files to a common place on your network, accessible to all who may cross it, this is definitely a lot cheaper than a Mac mini running Sharepoints—and certainly just as effective.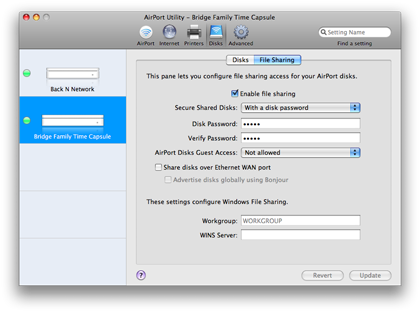 File Sharing configuration for the new Time Capsule drive.
But there's a bigger problem here. The Time Capsule isn't just a base station or network-attached storage. The Time Capsule's got a bigger purpose on your network. It's supposed to be a repository for your backed-up data. And, in terms of capacity, it does well: 1 TB is certainly the right place to be in terms of storage for a couple of users, and if it's just you on your network, 500 GB ought to be fine. But this is where the Time Capsule fell down for us. And why it's taken me literally days to write this half of the review.
I want to like the Time Capsule. I do. I've really come to love Time Machine on its external drive. But Time Capsule wasn't quite as nice. Sometimes when you go to the dealership for your car's periodic maintenance, the dealer gives you the next model up for the day. You drive around town in the sweet little ride that reminds you why you spend serious money on cars. When I took my last car in for its last periodic maintenance, I was given a clunker for the day. That's how Time Capsule felt in comparison to our Time Machine experience.
My wife's MacBook Pro was the first machine we added to the Time Capsule. We set her up to back up before going to bed and let Time Machine store its backup on the Time Capsule. It worked pretty well, copying some 90 GB of data to the remote volume in the following three-day period. Yeah, that's a good long time to saturate the AirPort network, but it didn't overly affect tasks such as surfing or e-mail, or even some light compositional work in the suites of graphics tools put in our hands by many independent developers. It really didn't get along too well with processor-intensive World of Warcraft, though, bogging down the frame rate inside the game, and the process of the Time Machine backup in the background. But it completed. It was about a week later when the problems began.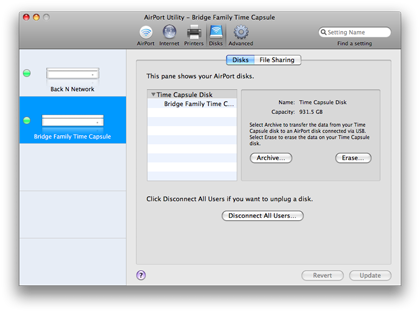 The Disks configuration section of the new AirPort Utility.
We ran into trouble with the disk image not properly mounting for further backup. At first, these were intermittent errors that would be fixed with a restart of the Time Capsule, but even that wouldn't solve our problems after awhile. So we started over. We deleted the old backup off the disk and took a Time Machine backup to disk over FireWire, then reset the target to the Time Capsule. We spooled out a cable in our living room to make the first backup over Ethernet and reduced the time of the initial backup from three days down to a single day. But again, the disk image would slowly be unmountable and unusable.
In the middle of this, I tried to set up my laptop to back up to the Time Capsule, but I experienced the same problem that my wife did when it came to transfer speed. I have about 100 GB of data, and in an overnight running of Time Capsule, only about 25 GB of data was moved to the Time Capsule, meaning I'd be looking at an initial set-up of about four days to take a good "first backup" to the Time Capsule. After day two, I gave up and went back to my external disk, dejected. I may return to the Time Capsule's wireless capabilities, once I have a weekend to leave my MacBook Pro tethered to the Ethernet for another shot on an initial transfer, but with my wife's issues with her disk images corrupting over the course of a few weeks, why risk it? Why not wait for 10.5.3 or 10.5.4 and firmware version 7.3.2 or 7.3.3?
So, as a base station, Time Capsule is without question the best that Apple's made. It balances our mixed-use network, featuring a good number of wireless and wired devices quite well. The range on it is quite good and even penetrates our normally opaque-to-wireless exterior walls, with my iPhone picking up usable signals about 60 feet outside of my front door (to my considerable surprise!). However, the backup functions just aren't reliable enough, or fast enough, for me to recommend this to anyone who's using a laptop as her primary computer. Those with iMacs and Mac Pros might consider it as a useful utility, as those machines are much less likely to be go traipsing off to the coffee shop for a latte and the Sunday Times crossword, or to a client site for some planning work. But if you have an iMac or a Mac Pro, you can stay tethered to a FireWire or USB drive just as easily. Wait for the next version, I think.