Software Review
Mellel 2.2.7.1

Developer: RedleX
Price: $49 (download); $64 (boxed); $35 (academic); $19 (upgrade price after two years).
Requirements: Mac OS X 10.3. Universal.
Trial: Feature-limited (prints watermark across each page, also when saving to PDF; after 30 days cannot copy or export content from saved Mellel documents).
I discovered Mellel some four years ago during a period of frustration. Microsoft Word had all the features I needed for my history dissertation, and then some, but it crashed at inopportune moments, and my files sometimes became corrupt. There was the new, slick-looking Nisus Writer Express, but it did not offer footnotes yet. The only way to do footnotes outside of Word seemed to be with two Carbon applications brought over from Apple's OS 9 days, AppleWorks and Mariner Write. Neither offered substantial control over the look and feel of footnotes, and the styles I customized in the more promising Mariner Write did not always stick, either. I could have turned to OpenOffice.org or AbiWord, but I did not want to work in X11.
Mellel came along at an opportune moment. A word processor that understood academic writing, Mellel offered multiple streams of footnotes, sections and chapters, and close, reliable control over styles. It was also fast and stable, and it fit a graduate student's budget. The Mac word processing market has come a long way since then, especially with the release of Nisus Writer Pro, but Mellel continues to occupy an important place among word processors for the Mac.
User Interface
The first thing one notices about Mellel is its user interface, which is unusual enough to ensure that many people will decide right away whether or not they like it. With its toolbar visible, Mellel's non-standard metal interface and styling makes it look like the old-fashioned metal typewriter in its icon. The look has a certain charm, although it will displease the user who is intent on customizing the toolbar, because that is impossible. I had this problem when I first began using Mellel, but the application has grown on me over the years. Besides, as with most applications, I hide everything I can, in order to make more workspace on my tiny 12″ iBook.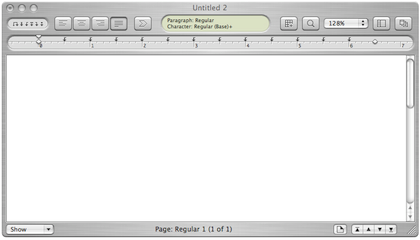 Mellel's Main Window
Most of the toolbar features are also available via a group of palettes whose number, order, and visibility can be individually controlled. The only one I have not found in the palettes or menu bar is the pop-up menu for choosing at what size to view the text. Since that is the only feature I must have from the toolbar, I have sometimes wished it were on the bottom of the Mellel window next to another important pop-up menu, Show, which offers individual viewing preferences for non-printing characters. This menu is also where the options to show and hide the toolbar and ruler are. As much as I enjoy the extra control these interface elements offer, though, Mellel also needs to have keyboard equivalents for those of us who like to keep our fingers on the keyboard.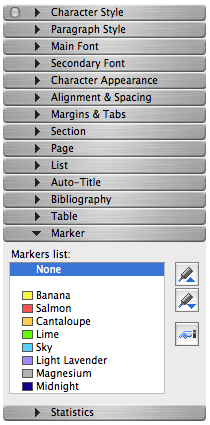 Mellel's Palettes With the Marker Palette Open
If you dislike Mellel's metal interface, you can choose an Aqua alternative in the preferences, though this one too is non-standard.
Mellel also offers three ways to view your text: Mellel View, Compact View, and Fullscreen. The Mellel View displays the entire page as it will look when you print it, and it shows a gap between each page. The Compact View only displays a thick black line between each page, but it too shows the contents of headers and footers. The comfortable Fullscreen option acts like the Compact View, but without the distractions of a menu bar or anything else on your computer's screen.
Editing
Mellel is a comfortable editing environment, but I tend only to write in it when I have a definite idea of what I am writing about. Most of the time I draft several pages in BBEdit or WriteRoom first, and then I move the text into Mellel.
I began this procedure when I noticed that Mellel did not let me undo an edit past my last save. That was a huge problem, but Mellel's excellent layout features made me willing to put up with it. At the same time I realized that writing fresh text in a document that grew to over 300 pages was intimidating. I also recognized that my concentration increased and I wrote better when I did not have any style features available. (I thank the makers of Ulysses for that lesson.) So Mellel was not there for me to write every word in. It was the place where I organized, styled, and began editing my various chunks of text.
Nonetheless, Mellel has now reached a point where I think I can expect it to offer undos past the last save. Its fullscreen environment, its markers (highlighters), and its powerful find and replace features for both content and style all suggest that its developers would like it to be a viable environment for composition, not just formatting and organization.
Finally, there is one consideration of special interest to users addicted to gaining access to Apple's Dictionary via Command-Control-D. Mellel uses its own text engine, so this standard OS-provided function does not work in this particular application. To compensate for this incompatibility, Mellel has a Dictionary command in its contextual menu.
Styling
Mellel's strength lies in the unparalleled control it offers over the appearance of text. While one can sit down at Mellel and start typing without any prior knowledge of the program, its value emerges when one takes the time to set up the various styles one plans to use. Panels for this purpose are available through the Paragraph and Character menus. Users who have a variety of customized styles can organize them by context via the Style Sets menu.
People working in other languages will also appreciate Mellel's multi-lingual and right-to-left text capabilities.
There is one potential problem with Mellel's rich style features, though. A friend of mine quit using the application because she could not find a preference to turn off hyphenation. I too had to look, and, as is often the case, I found myself opening the Mellel Guide, which is available via the Help menu. (There are also Mellel files for Apple's Help application, but these are less extensive and they take longer to search.) Sure enough, Mellel lets one turn hyphenation on and off, but it does so in the paragraph style panels. If you never use hyphenation, turn it off in one paragraph style and then base all the other styles off of that one.
This example is symptomatic of the high degree of control over appearance that Mellel offers the user. It also underlines Mellel's frequent departure from the typical expectations of experienced word processor users. That is often a good thing, but Mellel could also offer global options for users who have simpler needs. For example, I almost never use hyphenation, so I would rather turn it off in all cases via a main preference and only turn it on for special paragraph styles.
Footnotes and Endnotes
Footnotes are where Mellel really shines. Besides styling the format of the characters and paragraphs, one can choose how footnotes are indicated, whether with a number or letter or special character. One can determine how that character will look both in the footnote and in the text. Best of all, it is possible to run multiple streams of footnotes simultaneously.
Why multiple streams? I use my main stream of footnotes for my citations, but sometimes I need to translate or define a term, and I do not want that note to get lost in the citations. Instead of using a regular footnote with a number, I set up a stream for notes marked with an asterisk or other non-alphanumeric character. That way the reader can know what kind of footnote is available. I use such notes sparingly, of course, but I am glad to have the option, because it is often impossible to get around using the occasional foreign word in my field.
A more recent positive development is that the Note Streams panel now also allows one to set a limit on how much space footnotes can fill on a page.
Where are all these features? I had to look them up in the manual, but afterwards it seemed obvious. They are accessible via the Insert menu. Choose the Note submenu, which will list the note streams already defined as well as a menu item to edit note attributes.
Mellel's Footnote Stream Panel
And what about endnotes? They are not designed as a separate feature in Mellel. Instead one simply defines a note stream and tells this stream that notes are to appear at the end of the document. Unfortunately, I do not see a way to make endnotes appear at the end of each section. That does not bother me, but it might be a problem for some users.
Organization
From the Insert Menu there is also an Auto-Title submenu available, albeit with no keyboard commands. This feature is also available via a Mellel palette. I did not buy Mellel with organization in mind, but the auto-numbered titles at various heading levels provide my documents with a structure that Mellel can understand. This becomes useful when one opens the Outline feature, which is available through the View menu as well as the toolbar. The outline appears in the main window to the left of one's text, thus providing a handy overview of a long document as well as links to navigate through it. The outline has one more trick up its sleeve too. The user can rearrange a document's headings—and hence its content—via drag and drop.
Compatibility With Other Applications
Mellel began by using a file format that only it could read, but now it saves files in a package in XML. Still, Mellel creates styled documents whose structure only other Mellel users can see, at least until developers decide it is worth building Mellel support into their applications. Since that day might be a long way off, and since writers often have to interact with people on other word processors and platforms, Mellel includes import and export options for Word format, RTF, plain text, and OPML.
Importing directly from Word format is not a good idea if the document has footnotes. Footnote references disappear from the text, and the notes themselves appear in an unnumbered list at the end of the document. To get around this problem, save your Word document to RTF first, and then import this file into—or open it with—Mellel. Footnotes are preserved. Exporting directly into Word or RTF keeps footnotes intact. A plain text export works, too. Mellel marks footnote placeholders in the text with numbers surrounded by asterisks, and it places the numbered footnotes at the end of the text document.
One important deficit here is the import and export of outlines. An export of my dissertation makes accurately styled text and footnotes available both to Word and Nisus Writer Pro, but the outline does not carry over. Also, when I export the dissertation via OPML, only my chapter and section headings are exported, nothing else. OPML imports, on the other hand, work nicely, as long as only one column is involved.
Balance Sheet
I continue to stick with Mellel for academic writing because of its styling and footnote capabilities, which Nisus Writer Express has yet to match. I also like its speed and stability. A document of more than 300 pages opens almost instantly on my G4 iBook, and I can navigate around it with nary a hiccup. Finally, an important benefit for academic writers is Mellel's integration with Bookends, an excellent bibliography and citation application, and now Mellel also offers integration with Bookends' rival, Sente.
Mellel, however, also has a few significant drawbacks. The biggest for me are its lack of an undo feature past the last save, its inability to count characters inside its citations, and the absence of any support for AppleScript. Fortunately, Mellel's developers are accessible. They answer their e-mail and have an active and helpful user forum. These facts give me reason to believe Mellel will continue to improve.