Software Review
Billable 1.2.3

I do just enough consulting to need a tool for billing. My needs are pretty simple: 99% of what I do is based on hourly billing (in other words, I don't need a lot of elaborate reimbursement tracking, inventory, or non-service oriented billing); I have just a few clients who usually pay right away; and I have simple and straightforward needs and wants for organizing my billing history.
In other words, my needs could be met by a spreadsheet and word processor; in fact, the new iWork '08 offers very pretty and easy-to-use templates for exactly what I need. But like many small-time consultants (I hope!), I'm lazy about my billing. Sure, I could do it with iWork—but I'd rather have something that brought more automation and ease to the tedium of invoicing clients.
Enter Clickable Bliss's Billable. Billable sets out to be exactly what I have described above. And while Billable is powerful enough for someone with greater needs than mine, it does a very good job for what I need in a billing manager.
Getting Started
Billable comes with a good introduction video, which runs by default the first time you launch the application. This video, which is comprehensive in demonstrating the features and use of Billable, is also fairly brief (thank you, Clickable Bliss). Thus, it doesn't take very long before you feel very comfortable using the application.
I'll mention here that Billable also has a complete Help file that runs locally using Help Viewer. In other words, it doesn't simply take you to a Web site where the documentation lives—a move that is growing in popularity, it seems, but annoys me, and suggests an incomplete product. Billable is only at version 1.2, but having the full documentation installed locally tells me that the developer bothered to write it before shipping!
By the way, the Web site does have a very active forum, where many questions have already been fielded. You may find your answers there, particularly if you've used other billing software and you seek a particular feature or tool that you don't see immediately. Clickable Bliss also appears to welcome feature requests in the forum, so you might recommend that tool if it isn't already there.
Setting Up
Billable is easy to set up, with options for building a company profile in the preferences, so invoices are customized from you and/or your company. If you have a logo, you can even include this—a nice touch to make the end-product more professional. And it even offers you the opportunity to create your company profile from the Me card in Address Book, if you prefer.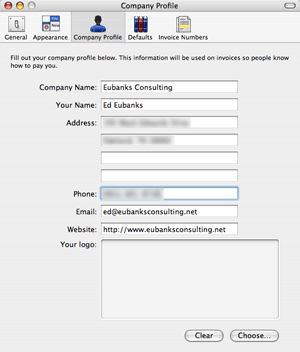 Establishing your client list is equally easy, if not more so. The Client Editor is simple and straightforward, and you may create users just as you did your company profile. However, Billable can also import data from Address Book, auto-filling in much of the client information and leaving you with few decisions before the client list is complete. Another helpful feature is the ability to set particular parameters for each client, such as hourly rates, default due dates, invoice numbers, and tax rates. I especially like the custom invoice footer text option, where I can personalize my invoices for each of my clients.
Building Data
Of course, set-up might be easy, but if day-to-day use isn't also simple then there's not much point. Fortunately, Billable is as easy to use as it is to set up.
Creating new entries for billing is a matter of a mouse-click on the New Service button. If you're working for an existing client, you might choose them from the sidebar before this—if so, then an entry will be created with all of their default information pre-filled. Otherwise, you may choose them from the pull-down menu for clients; alternatively, entries do not have to be assigned to a client, and if you're just doing a one-time job then you might want to leave it assigned to "no client." An aside: I would recommend against this last option, for the simple reason that it will cause you headaches when tax time rolls around.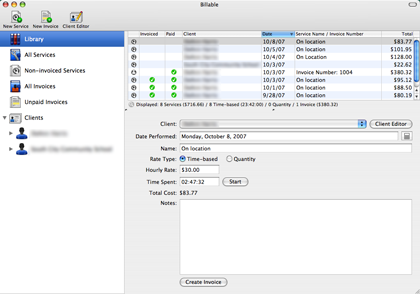 Specifics about each entry can be entered into the window. You can give it a name: "Mac Pro install," for example, or "location visit." Additionally, you can enter notes, and these will appear in the invoice(s) created for those entries. For time-based entries, the time spent can be manually entered, or—and this is the coup-de-grace for me—the Start button (immediately beside the time entry box) will start counting, either from 00:00:00 or from a pre-entered time; thus, if you take a break and hit Stop, you can start again later without having to create a new entry.
Similarly, creating invoices is just as easy. You may build an invoice for a particular entry—there is a button conveniently located at the bottom of every service window. Or you can select multiple entries from the list and create a single invoice for all of them. Once invoices are created, you can edit them—add a message to it, say, or adjust the due date—and you can mark payments as they are received. Fully paid invoices are brightly marked as such, so auditing your outstanding invoices is a breeze.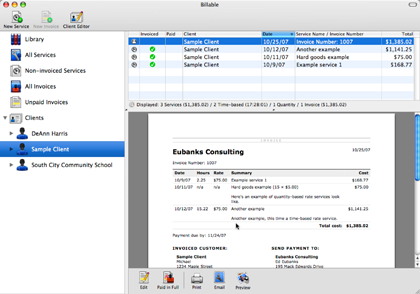 Then, you can output the invoice via printer, saving as a PDF, or e-mailing it. E-mailing invoices is very clean—it is clear that Clickable Bliss went to great efforts to integrating well with both Address Book (for client creation) and Mail. Using the client information from the Client Editor, it drafts an e-mail with the subject, "New Invoice from [company name] ([invoice #])" and the invoice attached as a PDF. It's as simple as clicking Send from there, and your client has been billed. If you prefer, you can also choose "Copy Plain Text Invoice" from the Edit menu, either to paste into the body of an e-mail or for other purposes.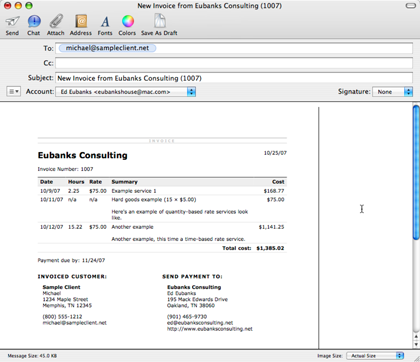 Meta-Thoughts
In addition to the attention given to Address Book and Mail integration, Billable is well-built as a Mac application, and it's AppleScriptable for more customized workflow integration. Overall, I give Billable high marks as a very Mac-like application, unlike some others in this category of software. This is important to me because, in addition to my laziness about billing, I also want my billing environment to be as comfortable as possible! Clickable Bliss has offered me that in Billable.
Quirks and Concerns
Nevertheless, Billable is still a 1.x product, and it shows in some of the missing pieces. For example, Billable has limited contextual menus—especially for deleting items from the list. I'm used to right-clicking an item to delete it; instead, to delete a service, I have to press the Delete key or choose Edit ‣ Delete. Forward Delete doesn't work.
Another feature I miss in Billable is a time-stamp for time-based billings. I'd like to record the time of day that I work, not simply the amount of time. I think this would instill a greater confidence in my clients that the billing is accurate.
Attending to my billing laziness, I also miss some form of default service settings. I tend to do the same kind of work over and over for my clients—or at least very similar things. For example, a lot of times I'm simply with my clients in their homes, working side-by-side with them. A simple "location visit" service would suffice, and would save me from typing this into the name field every time. And when I do more detailed work that is repeatable, this would be even more useful.
One invoice feature that bugs me is that "payable to" defaults to company name. This is based on the Company Profile, set up in the Preferences. If you need checks made out to you and not your company, you'll have to switch the Company Name to your name, and vice-versa. If you're handy with HTML—as many ATPM readers likely are—you could edit the invoice template to accomplish this, which Clickable Bliss happily supports.
Unlike in QuickBooks, invoices and payments must line up one-to-one. Billable does not allow a client to make one large payment for multiple invoices, and it doesn't keep a running balance of each client's dues or overpayments. I don't need these features, but others might.
Since I use Mail and Address Book, I had no difficulty with Billable's integration with these tools. However, if you use Entourage or another PIM, I don't know how much integration there will be. I pored over the documentation for information about this, but found nothing indicating compatibility with other PIM clients. Thus, your mileage may vary on those features.
Final Notes
Some of the forum posters seem to want Billable to be much more than it is; perhaps Clickable Bliss will deliver on this, or perhaps they are going to have to find fulfillment elsewhere! On the whole, Billable is just right for me, even with the quirks. I'm hopeful that the developer will work out some of the kinks I mentioned, and the rest I can live with. If you're like me—you need a simple, basic billing manager—then Billable might be for you. With the fully-functioning trial, it can't hurt to try it out.