Software Review
Smack Mahjong 1.0

Developer: Midori
Price: $20
Requirements: Mac OS X, 256 MB RAM. Universal.
Trial: Feature-limited (one of three tile sets, 3 of 50 layouts, no editor functions)
I nearly gave up on this game because the tiles were so small. Reviews Editor Paul Fatula experimented with it and discovered how to make them bigger. After that, it played fine. I wish the instructions were clearer about that process, because there are other users like me who would give up before figuring things out.
Mahjong is an ancient tiles game for multiple players. The modern computer variation is a solitaire-style game in which the player matches two tiles to remove them from the field. The object is to match all the pairs and clear the board. The game is relatively cheap to produce, and many free versions are available at online sites such as pogo. Free online games have other costs, though, one of which is advertisements, and the other is online access. Sometimes it is nice to be able to play a game on your computer without having to be connected to the Internet. Smack Mahjong, and others, will take care of both issues.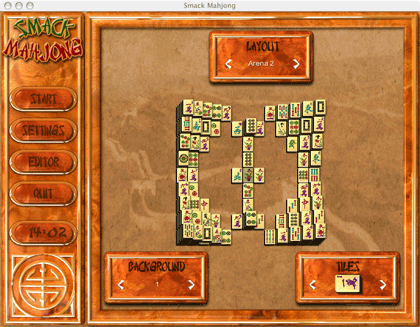 Getting started.
The problem I had when I opened the game is that the tiles are way too small. Each tile is roughly the size of my cursor, about a quarter of an inch. I knew how to play but could not see the tiles well enough to know which ones matched. One of the presets is to have playable tiles highlighted, which is helpful, but at this size, not good enough. I knew my eyes would be hurting after only a minute or two of play.
I wrote my editors and said I must have too small a monitor for the game. My Mac knowledge is nearly all self-taught, so when I run into a problem I presume it is something I have done wrong, or that my equipment is not fancy enough. Turns out that was not the case this time. After I whined about the tiny tiles, Reviews Editor Paul Fatula took a look at the game. He realized that if you click on one of the tiles, the array gets bigger. The tiles are much bigger, probably three times their original size.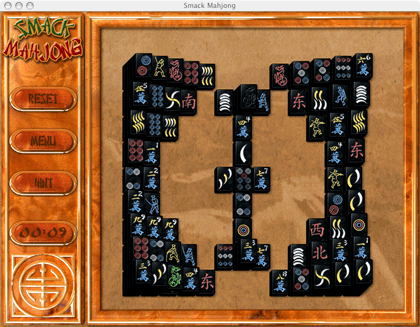 Large tiles, and in shiny black!
Now that I could play the game, I enjoyed it very much. The backgrounds don't have much variation, but the tile sets have a couple of choices (white, black, and kid-friendly). The game has over 50 layouts. To play, you look for a match, like a #6 flower tile and another #6 flower tile. The four winds are represented with S, E, N, and W tiles. Some tiles look like dominoes, with varying numbers of dots on them. The trick is to avoid playing the ones that are easily accessible, and try to first play the ones stacked on top of or otherwise blocking other tiles.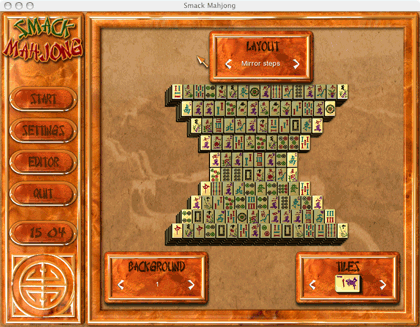 I found this one especially challenging.
The kid-friendly tiles were cute at first but I lost interest quickly. They might be a great option for first-time players, though I'd rather learn things the hard way from the start than have to make an adjustment later.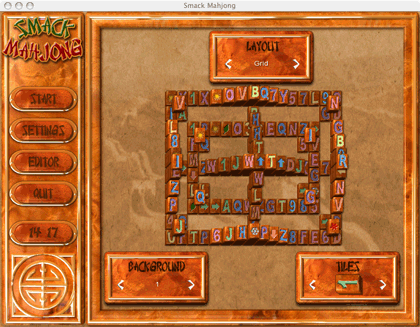 These tiles are easier to play, but they give up the traditional look of the game.
Smack Mahjong is a pretty good game once you get the hang of it. The music is delightful. To be worth the purchase price, the game should eliminate the size display problem for first-time users. With that exception, I found it to be a well-designed and smooth-playing game.