Software Review
iTunes Catalog 2.0.1

Developer: KavaSoft
Price: $25
Requirements: Mac OS X 10.3.9, iTunes 4.5. Universal.
Trial: Feature-limited (only artists beginning with letters A-E are displayed).
In my ongoing quest to seek out methods of accessing my iTunes library from a remote location, I came across iTunes Catalog. In this age of software commonly being given names that bears little or no witness as to the function of the software, iTunes Catalog has not joined that ship. I initially made the error of seeing the application as providing full remote access to my iTunes library. In reality, it truly is a Web-based catalog of an iTunes library—one that comes with several neat tricks.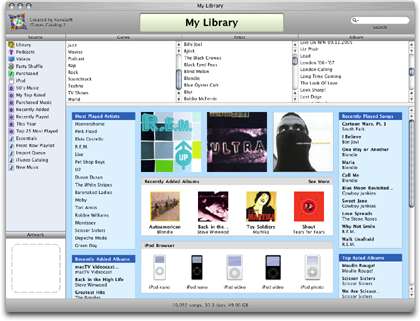 The iTunes Catalog browser is a surprisingly well-done simulation of the actual iTunes application browsing the Music Store.
The primary function of iTunes Catalog is to display an iTunes-esque interface of your library within a Web browser. Playlists are displayed on the left just as you'd expect in iTunes. There is a genre/artist/album browser at the top and an iTunes Music Store–style interface in the main window. This main section includes boxes showing random albums, recently added albums, recently played albums and songs, top rated albums, and more. There's also an iPod browser—more on that later.
But iTunes Catalog goes beyond simply providing remote access to information and lists of your library. If you enable the option, you can play your songs on the remote computer. Even the protected Music Store purchases can be played, but only if the remote computer is one of the five machines allowed to be authenticated to your account at any given time.
Almost as if it were icing on the cake, iTunes Catalog offers an additional method for browsing and playing files in your library—a simulation of an iPod. And not just any iPod; you can select either the full-size or Nano versions in either black or white, as well as a fourth generation iPod photo.
For many people, this could be the end of the review. The functions I've described above worked with no difficulty. The setup application was stable and, with only one exception concerning album artwork that I'll describe below, it was very straightforward in its operation. There are built-in helpers to be sure your computer's Web Sharing and PHP are properly enabled, and easily accessible toolbar buttons allow you to publish an updated catalog either locally or via FTP. There are also great tools to retrieve and manage album artwork and lyrics, look up the year an album was released, and interact with Musicmobs.
However, for its price tag, a few changes and fixes are needed before I'd consider it a value.
Topping the bug side of the list is video playback. When I first began using iTunes Catalog it was at version 2.0, and every video in my library that I attempted to play resulted in a server error. I should have made note of the exact error, but failed to do so. I've since updated to version 2.0.1, but the video problem is only partially fixed. They now will play, but only a thin horizontal strip is visible—an area equal to the space normally occupied by the QuickTime slider/controller normally seen via the Web browser plug-in. I would have expected a pop-up window to display the video but instead only get the thin strip in the upper portion of the catalog browser.
Video playback leaves a lot to be desired. Specifically desired is being able to see all of the video!
The iPod browser exhibits the same video playback problem.
Also on my bug list is that music playback occasionally skipped if I switched to another Safari tab and started browsing. I fault iTunes Catalog for this and not my processor because I have many times loaded an audio file into Safari that was either on my local computer or accessed from my server and then switched to another tab to browse while the audio file was playing, skip-free.
An oddity that I can't be certain whether or not is a bug is how songs and albums are tallied for things like the "Recently Added" and "Recently Played" sections. As things turned out, the most recent album I ripped at this writing was volume 21 of the "Now That's What I Call Music!" compilation. For the record, I do not use iTunes' compilation setting in the tag editor and always turn it off if a ripped album has enabled it. Yet something about this Now 21 album made it always appear in at least two of the four "Recently Added Albums" spots (each with a different song label beneath). Often, three or even all four spots show this album.
Also of confusion to me is why several albums keep showing up in the "Recently Played" spot that I actually have not played in quite some time. Worst of all is that the "Recently Played Songs" box is completely full of songs from a playlist I only use rarely, and even then I only use it on my iPod—never directly from iTunes.
Suffice to say, I've had to largely ignore the Music Store-like representation and simply browse artists and albums in the upper portion, or directly access one of my playlists shown in the left-side pane.
Rounding out the list of problems are a few functionality features I'd love to see addressed. Most of all, iTunes Catalog is not designed to play a series of songs. I realize that, as a library catalog, previewing a single song should be very acceptable functionality. However, iTunes Catalog would be vastly more valuable to me (and immediately worth more than its current price) if it would play an album or playlist in succession without having to click on each song one at a time to play it.
Somewhat related to the successive playback capability is protection. iTunes Catalog works best when it is published to a Web server accessible from anywhere via the Internet so you can browse and preview your library no matter where you are. (Most people would have little need for such a catalog at home since their iTunes library is already right there and they can browse the actual iTunes application.) Preventing the world from potentially finding your catalog and also possibly even being able to copy and save any of your music that didn't come from the iTunes Music Store should be on the to-do list. A published iTunes Catalog Web site is already PHP-driven. I may not know much about PHP, but I don't imagine it would be difficult to require a login to access the Web-based catalog.
In the setup application, there is a column that indicates the status of artwork for each album. It works, but is not intuitive. It simply consists of two green, yellow, or red Aqua-style dots. One indicates whether artwork exists in your iTunes library; the other indicates whether the artwork is in your iTunes Catalog library. Green means all albums/songs have artwork, yellow means that some have artwork, and red means none have artwork. Nothing on the screen offers a clue that the left dot refers to iTunes Catalog and the right dot refers to iTunes. I had to dig through the help screens to learn this. Likewise, I also had to search the help files to learn that there is a skill of double-clicking these dots to copy artwork from one place to another and to retrieve artwork from Amazon.
And finally: the amount of time required to publish a catalog. I realize I am closing on 6,500 items in my iTunes library and that my library lives on an older computer, but I hope the developers are exploring ways of optimizing the catalog generation routines. I don't know the exact time that was required, but I can tell you that after I had began publishing my catalog, I went to watch a TV program, and the catalog was not finished by the time the first set of commercials ran—about 15 minutes into the show. When I returned again at the end of the hour-long show, it was finished and waiting for me. Thus, on a 450 MHz G4 with nearly 6,500 files, the time to publish a catalog was more than 15 but less than 60 minutes.
My search continues for a better way to stream my music from home in a protected manner. (Yes, I have heard of accessTunes and would like to review it one day, but I must first work through some issues that I am not yet convinced are not problems on my end.) For now, iTunes Catalog provides a useful method to quickly snag a song from home to let a friend or coworker hear.