Book Review
The TCP/IP Guide
It's another weekday morning of radio traffic alerts, in-depth news reports, and just a bit of music as I jump from radio station to radio station to avoid commercials. I started my day before sunup to beat the traffic and make the first leg of my daily commute no more than ninety minutes. I knew what was on my task list at the office as I tried to keep myself distracted by watching the sun's early rays bounce off the canyon topography while listening to news and traffic reports as they bounce off my car's antenna and pour through my car's stereo.
My approach to finding information during the early morning commute is not unlike my approach to finding information on workplace solutions. I don't like commercial pitches and desire to have as much knowledge as possible. In my view, the Web as an information source is often no better than radio news—snippets of information interspersed between commercial pitches and banner ads.
Solutions Sought
Among the items on my office task list is laying out a network integration plan and the evaluation of Internet-based telecommunication options. Like many professionals with an IT background, I'm familiar with networking principles and know my way around the hardware and software resources needed to make technology solutions happen. But advances happen every day, and happenstance often derails the plans of the unprepared. The Web offered little help in my search for quality, concise, and reliable information.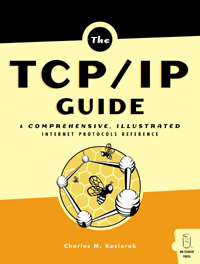 Evaluation
Needing solid information about what lies at the core of my plans, I turned to No Starch Press for answers. No Starch might best be described as a "print house for geeks," amateurs, and pros alike. Among its latest offerings is The TCP/IP Guide, written by Charles M. Kozierok. If this book is an accurate indicator, Mr. Kozierok is a very busy guy with a boatload of tech stuff on his mind.
At more than 1,500 pages, The TCP/IP Guide weighs in figuratively and literally as a hefty resource on its topic. I have to admit that, upon opening the box containing this exhaustive volume, I took pause just to marvel for a moment at its sheer size. I learned quickly Mr. Kozierok's latest published work is much easier to navigate than it is to lift. Spanning 88 well-developed chapters, the book's $80 price tag works out to only pennies on the page. In a world where time is money, quick and easy access to quality information may prove this book to be a bargain for people in search of TCP/IP answers.
Rightly named, the book should be called The All-In-One TCP/IP Guide, Detailed Protocol Review and Comprehensive Concordance. The table of contents and index provide a convenient and easy-to-follow road map of the book and the exhaustive amount of material that lies between them. Smartly illustrated, the book is easily navigated for both brief overviews of the subject matter and more in-depth study of TCP/IP-related topics.
Solutions Found
For novices this book may at first appear intimidating due to its size and towering word volume. But looks are deceiving. Not only does Mr. Kozierok's book seek to satisfy the appetite of the tech savvy, it also provides well illustrated explanations of TCP/IP basics for readers otherwise unfamiliar with the topic. The first several chapters are devoted to an overview of TCP/IP fundamentals and meaningful explanations of industry terms and acronyms.
Personally, I don't like to wade through pages of esoteric or recondite text to find my answers. It took just a few minutes to locate answers to my own TCP/IP questions. Specifically, I needed answers on TCP/IP performance issues, network standards, and interoperability, as well as information on protocols and network administration. Though the information I needed was addressed in different areas of the book, my answers were found easily using the book's effective Contents In Details section.
Admittedly, there are several chapters of this guide I may never have cause to read. But the inviting style with which Mr. Kozierok has composed this book has lead me to read beyond the points I needed to find and the answers I needed to discover.
Conclusion
The time I spend each day between my morning and evening commutes is often as harried and stressful as the hours I spend behind the wheel. In search of answers even the Web has become a congested mess with commercial ads that loom larger than freeway billboards. Finding a comprehensive yet concise resource such as The TCP/IP Guide is a welcome change from the information congestion common on the Information Superhighway.
Figuratively speaking, when it comes to finding answers to TCP/IP-related questions, this guide and reference source puts both novices and pros in the fast lane of answers. The easily navigated contents and index sections are like having your own drive-up window of facts.